Your DIY Guide for Quick and Yummy Candy
Duration: approx. 15 Min Prep Time | ⓥ Vegan | ⓧ Gluten-free
Juicy, fruity, and free from artificial flavors – fruit leather is the healthy and tasty snack you need! Whether you make it with delicious berries, exotic mangoes or citrus fruits – it's the prefect way to make your own vegan fruit gummies.
What are Fruit Leather or Fruit Roll Ups?
Fruit Roll Ups are made from pureed and dried fruit and have a gummy bear-like texture. Homemade and free from unnecessary additives or added sugars, fruit leather is the perfect solution to use up ripe fruit and create your own delightful mix of different fruit varieties. For me, it's the perfect snack, and it's so easy and quick to make!
How Do I Make Fruit Leather?
There are 3 methods:
Sun-drying (most affordable, takes longest)
Using a dehydrator (Takes about 12-18 hours)
Using the oven (most expensive, but no extra equipment needed)
All 3 have their pros and cons. You decide which works best for you. As a city dweller with limited space, I prefer using the oven. It allows me to make several trays of fruit leather simultaneously, saving time and being a good compromise. Additionally, the oven method is the quickest way to make fruit leather.
Which Fruits are Best for Fruit Roll-Ups?
You can use any fruits (or vegetables) that you like – both frozen or fresh work. These are the fruits I think are best for fruit leather:
Apples: Apples are an excellent base for fruit leather, with pleasant sweetness and a soft texture. No fresh apple at home? Applesauce works just as well!
Berries: Strawberries, raspberries, blueberries, and blackberries bring natural sweetness and vibrant colors to your fruit roll ups. They are also rich in antioxidants and fiber.
Mangos: Mangos add an exotic touch and delightful sweetness to the fruit leather. Their vivid yellow-orange color adds a wonderful glow to your candy.
Bananas: Bananas provide a creamy consistency and natural sweetness. They work particularly well when combined with other fruits, as fruit leather made only with bananas can become brittle.
Pineapples: Pineapples bring a refreshing tropical note to the fruit leather, creating a pleasant flavor contrast.
Peaches and Apricots: These fruits add a slight acidity and delightful summer aroma to the fruit leather.
Citrus Fruits: Lemons, limes, and oranges can add a refreshing citrus taste that harmonizes well with other fruits.
Experiment with different fruits and combinations to create your unique fruit leather. The riper the fruit, the less sweetener you need. Is your fruit leather too sour? Bananas and grapes are excellent for adding natural sweetness. Otherwise, you can always add a bit of maple syrup.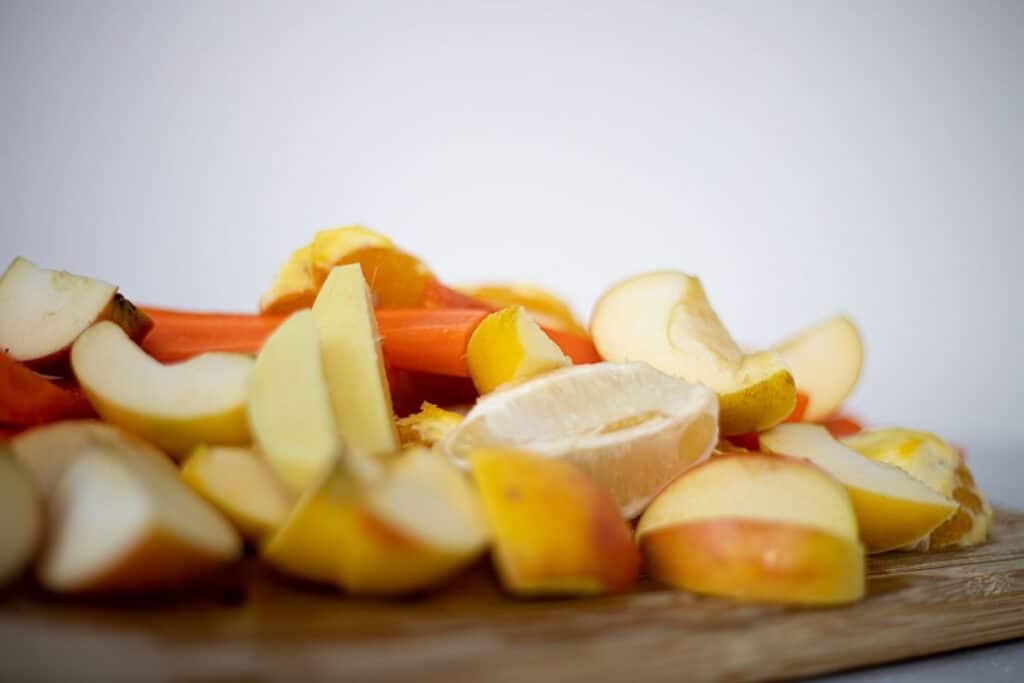 FAQ
When is My Homemade Fruit Leather Ready?
Your fruit leather is ready when it easily peels off the baking paper and has a silky surface. It should still be flexible but firm enough to be detached and rolled up as a whole piece.
Which Baking Paper is Best?
I prefer using my reusable baking sheet as the fruit leather comes off easily. You can also use regular baking paper, but it may wrinkle, and depending on the quality, it can be difficult to remove the fruit leather.
Is Fruit Leather Healthy?
Yes, fruit leather is healthy, as it contains no additives, coloring, and usually no added sugar. It is also vegan and has a high content of fiber and potassium, especially when dried slowly at low temperatures. With its natural and nutrient-rich properties, fruit leather is a delicious and healthy alternative to many other snacks.
How Long Does it Need to Dehydrate?
The drying time depends on the water content of the fruits. The more water they contain, the longer it takes for the fruit roll ups to be fully dried. It is good to monitor the progress during the drying process to ensure that the fruit leather reaches the desired consistency. On average, it takes about 3-5 hours to fully dry.
How Much Does Fruit Leather Cost?
An oven of energy efficiency class B consumes an average of about 1.1 kilowatt-hours of electricity per hour. Assuming the electricity price is 40 cents per kilowatt-hour, the electricity costs for one hour of oven operation amount to 40 cents. Add the cost of the fruit you use. To save costs, I recommend making large quantities at once.
Trouble Shooting

My Homemade Fruit Leather Doesn't Set
If your fruit leather doesn't set, it may not have been dried long enough. Check the drying time and let it dry longer in the dehydrator or oven if necessary. Also, pay attention to room humidity and the consistency of the fruit puree to ensure optimal drying conditions.
My Fruit Leather Is Too Runny
If your fruit leather is too runny, there are different ways to thicken it. Bananas work well for thickening the fruit puree. Alternatively, you can simmer the fruit puree to get rid of excess liquid. If you're short on time, guar gum is a practical option for thickening the fruit leather. Add about ½ to 1 teaspoon of guar gum to achieve the desired consistency.
The Fruit Leather Sticks to the Baking Paper
If your fruit roll ups sticks to the baking paper, there's a simple trick to make it easier to remove. Cut the fruit leather into strips, leaving the baking paper attached. Then you can simply pull the individual strips apart, so they no longer stick to the baking paper.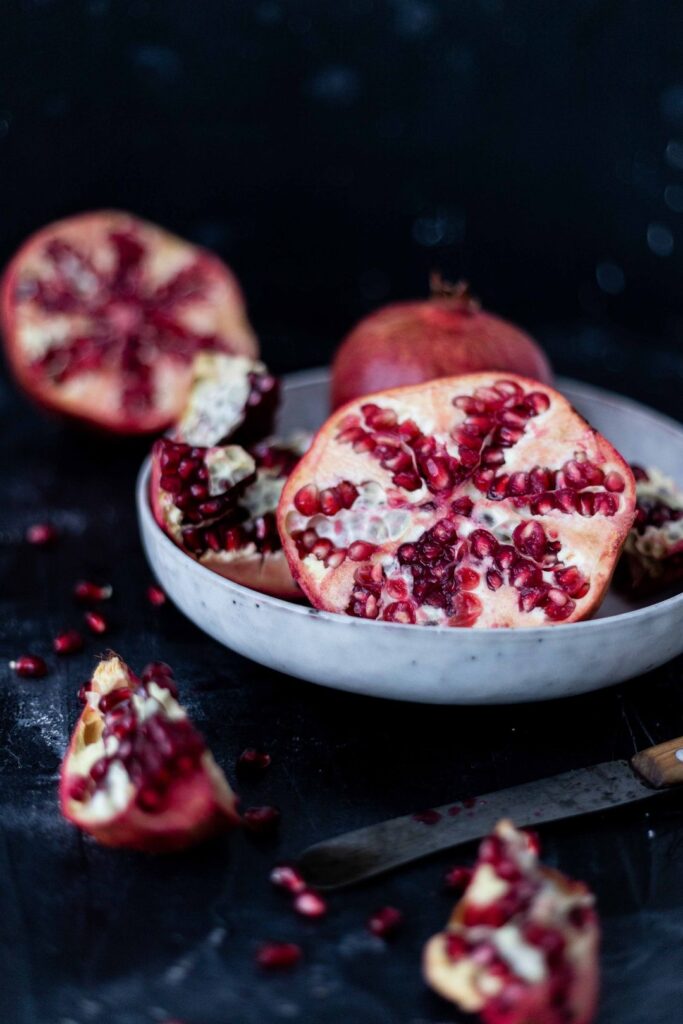 Fruity Alternatives for your Fruit Roll-Ups
Here are some delicious fruit combinations that work particularly well for making fruit leather:
Strawberry-Banana: The sweetness of the banana pairs really well with the freshness of strawberries, creating a fruity and refreshing fruit leather.
Raspberry-Blueberry: This berry combination brings intense color and a rich berry flavor to your vegan gummy bears.
Pineapple-Coconut: A tropical combination that brings a touch of exoticism to your fruit roll ups..
Mango-Peach: The tropical sweetness of mango combined with the mild acidity of peaches creates a delightful blend.
Apple-Cinnamon: The classic taste of apple and cinnamon is a wonderful combination reminiscent of apple pie.
Raspberry-Lemon: The tartness of lemon complements the sweetness of raspberries perfectly, resulting in a refreshing flavor combination.
Blueberry-Vanilla: The sweet and slightly tart blueberries pair well with the delicate aroma of vanilla.
Pear-Ginger: The mild sweetness of pears goes well with the subtle spiciness of ginger, adding a delightful touch of spice to the fruit leather.
Apricot-Almond: The light acidity of apricots combined with the nutty flavor of almonds create a fruity and crunchy fruit leather.
More Alternatives
For more fiber, add a few psyllium husks or chia seeds.
Get the perfect crunch by sprinkling chopped nuts on top.
Try a savory fruit leather with spinach and broccoli for an interesting flavor combination.
Experiment with spices like turmeric, cinnamon or chili for that extra flavor burst.
Sprinkle with some vanilla for some indulgence.
Take your fruit roll ups to the next level with fresh herbs like mint or lemon balm.
Tipps and Tricks
Don't roll it too thin – otherwise, it will become crispy rather than pleasantly chewy.
Roll out the fruit leather evenly and gently tap it to ensure a consistent thickness.
Ripe fruit is perfect for fruit leather and brings plenty of natural sweetness.
To maintain the color, add lemon juice.
Important: Leave the oven door slightly open so that the water vapor can escape; otherwise, it will take forever.
Pay attention to the quality of the fruit. Since we don't heat it, it's even more important (if possible) to buy organic fruit.
Make several trays at once to save on energy costs and replenish your snack supply at the same time.
If you want a smoother fruit leather, strain it after blending or use only seedless fruits. Otherwise, small seeds will remain, which I think provide the right crunch.
Sprinkle anything you like on top: coconut flakes, chopped nuts, cacao nibs.
Be adventurous: Spirulina or beetroot juice are perfect for coloring!
Storage and Shelf Life of Fruit Leather
In the pantry: Stored dry and airtight in a screw-top jar, fruit leather can be kept for several months. It is essential to store it airtight since the whole point is to remove moisture from the fruit 🙂 Be sure to check the fruit leather occasionally to ensure that it shows no signs of mold or spoilage.
In the freezer: Fruit leather can be easily frozen to extend its shelf life. Divide it into individual portions or pieces and store it in airtight containers or bags in the freezer. When you crave a healthy treat, simply thaw it at room temperature or in the refrigerator and enjoy. The freezing method is convenient for keeping your delicious fruit leather fresh for longer.
How can I eat Fruit Roll-Ups?
With everything! I mostly eat it as a healthy treat. But if you've been following the latest TikTok trend, you already know it's great as an ice cream sandwich. Get creative with shapes and colors! Sure, fruit leather rolls up great. But you can also shape it into small lollipops, circles, or hearts. Let your creativity run wild and transform your fruit leather into artistic and unique snacks that will impress everyone.
Do You Love Snacks as Much as I Do? Then You Have To Try These Too:
Vegan Chickpeas Cracker with Rosemary
Date Bliss Balls with Chocolate
Healthy Raspberry Energy Bars with Dates and Coconut
Share & Comment
If you liked these delicious salted chickpeas crackers, I would appreciate if you leave me a ⭐️⭐️⭐️⭐️⭐️ rating and a comment below. Be sure to follow me on Pinterest, Instagram, TikTok, and Facebook for all my latest recipes.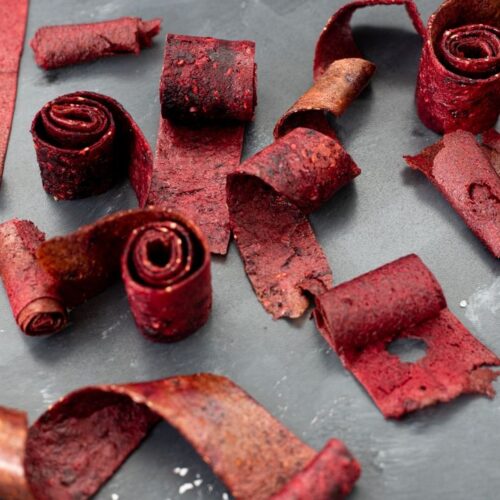 Healthy Homemade Fruit Leather Roll-Ups
Looking for a healthy snack alternative to sugary gummy bears from the grocery store? Try this vegan fruit leather recipe made with just fruit and a little time. Healthy, refined sugar free and 100% natural ingredients!
Ingredients
Sour Cherry Fruit Leather Roll Ups
400

g

sour cherries

frozen

3-4

bananas

very ripe

½

lemon

squeezed
Berry Fruit Leather Roll Ups
400

g

mixed berries

frozen

2

bananas

½

lime

squeezed
Instructions
Preheat the oven to 60 °C (140 °F).

If you use frozen fruit, let it thaw (or heat it up on the stove) and mix with remaining ingredients to form a thick, spreadable mass.

Spread your fruit pulp evenly on a baking sheet lined with parchment paper so that everything is about half a centimeter thick.

It is important that the mass has the same thickness everywhere, otherwise some areas will dry faster than others.

As soon as the oven is preheated, slide your fruit leather into the oven on the middle rack and let it dry for about 4-5 hours, depending on its thickness and consistency. Keep a crack of your oven door open to let the moisture out.

If it closes again automatically, just clamp a wooden spoon in between.

The roll ups are done once the top is no longer sticky and everything has become firm, but the rest is still soft and chewy.

After cooling, you can cut your fruit leather into any shape you want – into strips, small pieces, hearts – you name it!
Notes
Reusable baking paper works best for this, so that the fruit roll ups peel off easily. If you don't have this, you can also use normal baking paper.
Simply cut the strips with the baking paper and remove them one by one before eating.
Nutrition
Serving:
20
g
Calories:
49
kcal
Carbohydrates:
12
g
Protein:
1
g
Fat:
0.3
g
Saturated Fat:
0.1
g
Sodium:
0.5
mg
Fiber:
2
g
Sugar:
8
g
Vitamin A:
41
IU
Vitamin C:
4
mg
Calcium:
6
mg
Iron:
0.2
mg
Did you like this recipe?
I'd love to hear from you! Comment below.