Easy, Cheap and Super Yummy!
Time: Approx. 5 Min | ⓥ Vegan | ⓧ Gluten-free
You love almond milk, but making it yourself seems too time-consuming and the store-bought one is simply too expensive? Keep reading to learn how to make your own almond milk with just 2 ingredients in 5 minutes!
I love almond milk and have been using it for my vegan recipes for years. It is naturally lactose-free, cholesterol-free, and contains calcium, vitamins, and other nutrients. Plus, it won't spike your blood sugar as it has very few carbohydrates and sugar. Sounds good, right?
However, it is important to pay attention to the additives in store-bought almond milk as they may contain added sugar or other unhealthy ingredients.
That's why I want to show you how to make your own almond milk from almond butter. It's super easy, and you can be sure that it is made from high-quality, healthy ingredients.
What Can I Use my Homemade Almond Milk For?
There are many ways to use your homemade almond milk! Here are a few ideas:
Milk it: Use your homemade almond milk as a dairy-free alternative in your morning coffee, tea, smoothies, and cereals.
Cook it up: Add some nutty flavor to your soups, sauces, and other dishes by using almond milk as a substitute for cream or milk. Want it extra creamy? Add more almond butter to your recipe and get a velvety smooth texture.
Bake it 'til you make it: Give your baked goods a nutty twist by swapping regular milk for almond milk in your recipes. You'll love the unique taste it brings to your cakes, muffins, and bread.
Whip up a dessert: Use almond milk as a base for your vegan puddings or ice cream recipes. The rich, nutty flavor will elevate your sweet treats to a whole new level.
Blend it: Blend your almond milk with your favorite fruits and veggies to make a deliciously creamy smoothie. It's the perfect way to start your day or to enjoy as a midday snack.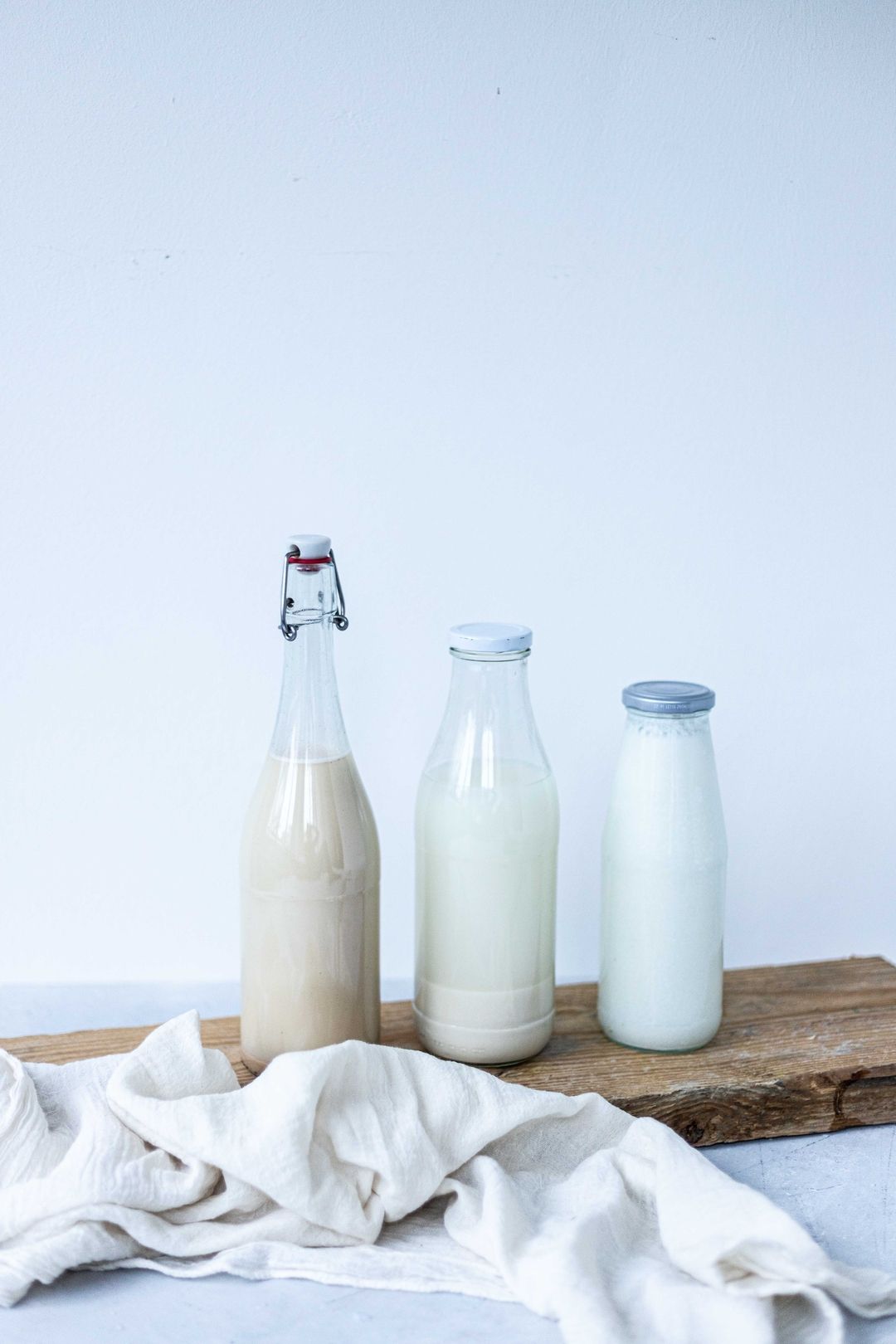 Here are Some More Benefits of Homemade Almond Milk:
Health benefits: Unlike store-bought almond milk, which can contain additives and sugars, homemade almond milk is chock-full of essential nutrients like calcium, vitamin E, and iron.
Cost savings: Let's face it, almond milk can be expensive. Making your own can save you a pretty penny.
Eco-friendly: By making your own almond milk, you're not contributing to the plastic waste that comes from store-bought almond milk in plastic bottles. Kudos to you, friend!
Transparency: When you make your own almond milk, you know exactly what's going into it. You get to choose the ingredients, and whether or not you want to sweeten it.
Freshness and taste: Homemade almond milk has a certain je ne sais quoi. It often tastes fresher, and you can customize it to your liking. Plus, you get the satisfaction of knowing you made it yourself.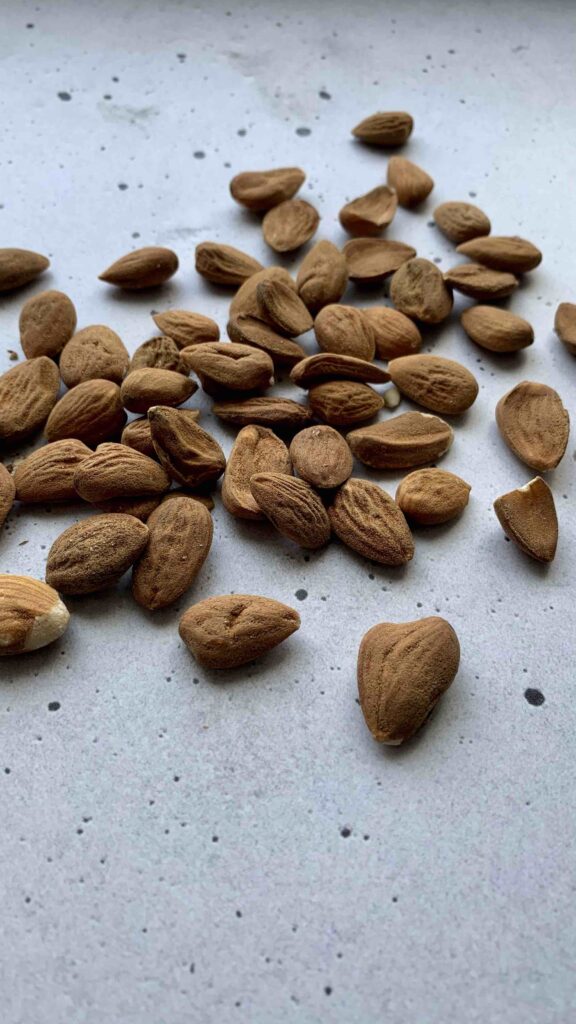 Frequently Asked Questions About Homemade Almond Milk
Which Almond Butter Should I Use – White or Brown?
Honestly, it doesn't really matter. Just use whatever you already have at home. Brown almond butter is made with the skin on, while white almond butter has the skins removed before processing. Both taste great! If you want to make your own almond butter, check out my recipe.
Which One is Healthier: Almond Milk or Oat Milk?
Both milks are a great alternative to cow's milk, but there are a few differences in terms of nutrients and taste.
Oat milk usually has more carbs and calories than almond milk, but it also contains more fiber, which can help with digestion and feeling full for longer. However, store-bought oat milk often has a lot of sugar, as the oats are fermented before processing. If you want to avoid this, definitely try making your own oat milk using my recipe.
On the other hand, almond milk usually has fewer calories and carbohydrates than oat milk, but it's also not as high in fiber. However, it's an excellent source of calcium, vitamin E, and other important nutrients. Plus, almond milk often has a creamy, nutty taste that pairs perfectly with strong coffee!
So, What's the Difference Between Almond Milk and Almond Drink?
Basically, it's the same thing – a plant-based milk alternative. However, in the EU, plant-based alternatives to cow's milk can't legally be called "milk" and are often called "almond drink" instead. The same goes for oat, cashew, or other plant-based milk alternatives.
Hey, if you're a fan of plant-based milks, then you gotta check out my other dairy-free alternatives:
Tipps&Tricks For Your Homemade Almond Milk:
Your almond milk tastes best when made fresh. Then you have the perfect foam and can use it for your coffee.
If you prepare larger quantities, you can also store them in the refrigerator for up to 24 hours.
You can also make your almond milk with whole almonds. Soak them overnight to make them easier to blend!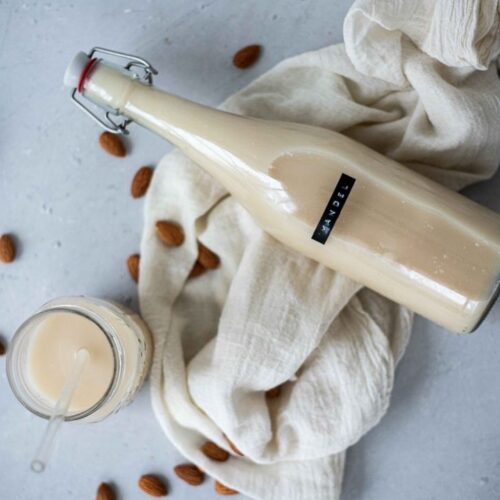 Homemade Almond Milk
Making your own almond milk sounds complicated? Not with this recipe! In only 5 minutes,you'll have whipped up the creamiest, freshest almond milk that foams up perfectly – without any additives or mess in the kitchen!
Ingredients
1

liter

of water

30

gr

almond butter

2-3

dates

optional

1

pinch

of salt
Instructions
To make your homemade almond milk, simply add the almond butter, salt and water to a high speed blender.

Next, blend the mixture for about 1 minute until you see that a milky liquid is formed.

If you like it sweeter, you can now add your dates or another sweetener and blend again.

That's it! Your finished almond milk will keep for about 2-3 days in the fridge.
Notes
Since we don't use any additives, the milk will settle a bit. Just give it a quick stir/shake and you're good to go.
I prefer to make smaller amounts of almond milk and always make it fresh.
If you like it creamier, you can always add more nut butter – just try what you like best.
Nutrition
Serving:
250
ml
Calories:
61
kcal
Carbohydrates:
5
g
Protein:
2
g
Fat:
4
g
Saturated Fat:
0.3
g
Sodium:
10
mg
Fiber:
1
g
Sugar:
4
g
Vitamin A:
1
IU
Vitamin C:
0.02
mg
Calcium:
28
mg
Iron:
0.3
mg
Did you like this recipe?
I'd love to hear from you! Comment below.