The Tastier, Healthier and Cheaper
Version
Love almond butter as much as I do but think making your own is complicated and time-consuming? Think again my friend! With just a few simple steps and ingredients, you can easily make your own almond butter at home.
And the best part? You know exactly what's in it and can skip the extra additives and sugar – all at a fraction of the cost! Sounds good? Let's get started!
Total Time: approx. 20 Min | ⓥ vegan | ⓧ gluten-free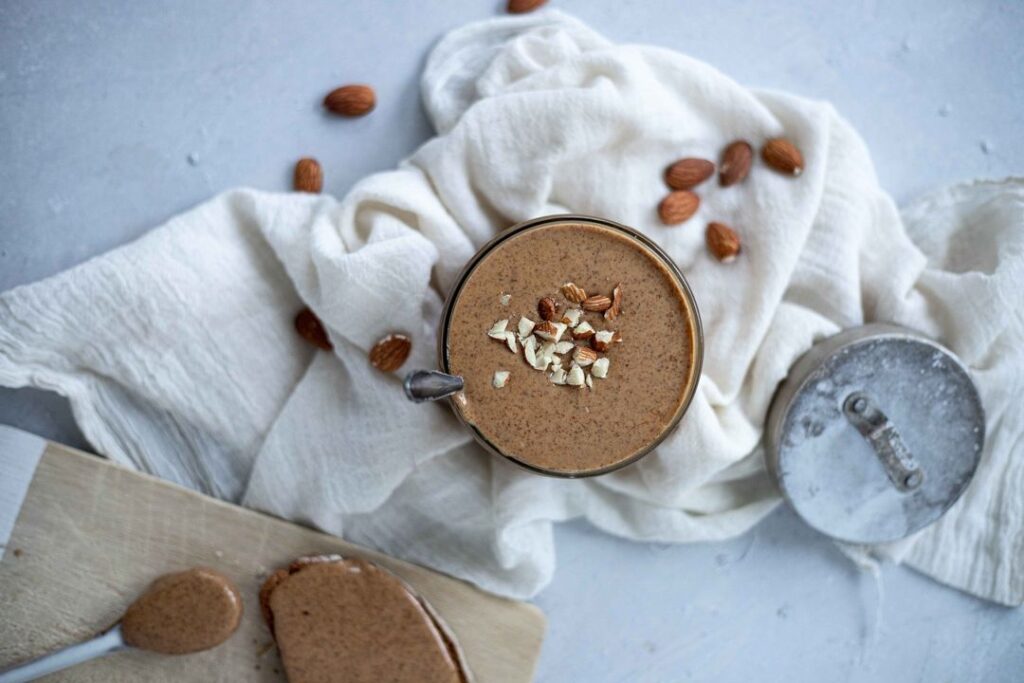 What Makes Almonds Special?
Almonds are a real jack-of-all-trades. Did you know that they can even help relieve heartburn? Just chew 3-5 almonds thoroughly and swallow them down with some liquid. The resulting paste binds excess stomach acid and relieves discomfort.
What really makes almonds special is their high concentration of antioxidants. Antioxidants are compounds that can protect the body from the harmful effects of free radicals, which can be caused by environmental pollution, smoking, stress, and other factors. A handful of almonds contains more antioxidants than a cup of green tea or fresh broccoli!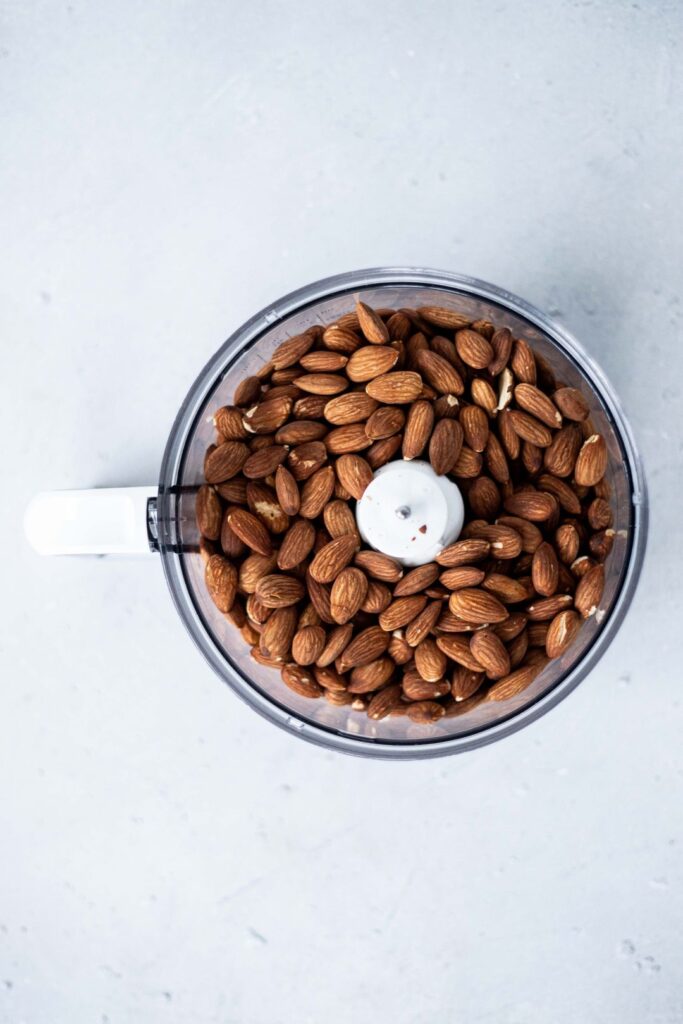 Is Almond Butter Healthy?
Almonds are a great source of unsaturated fatty acids, have a high protein content, and are also rich in fiber. They are packed with magnesium, vitamin E, B2, and other micronutrients. And if you're wondering whether almonds are low in calories, don't worry! With only about 600 calories per 100g, almonds are a healthy and nutrient-rich option for your diet.
What Can You Use Almond Butter For?
But for me, the taste always comes first. Slightly sweet and easy to digest – whether as a healthy spread, to refine your cakes, as almond milk, or in these fruity energy bars – there are many uses for almond butter in the kitchen. Whether you like it savory or sweet, almond butter can be used in a variety of ways. Do you like to drink almond milk? Learn how to make your own almond milk in just 5 minutes.
I love almond butter and find a way to incorporate it into my meals whenever I can! And that's why today I want to show you my 3 favorite almond butter recipes – all 3 are quick to make and easily adjustable to your likings.
More Nut Butter Recipes
Do you prefer things a little sweeter or looking for an alternative to almond butter? Then learn how to make your own cashew butter here. And if you love chocolate spreads, check out our post on how to make vegan chocolate hazelnut spread!
There you have it – making your own almond butter is easy, cheap, and healthy! Plus, with these delicious recipes, you can enjoy your homemade almond butter in even more ways. So why not give it a try and let me know your favorite way to use almond butter in the comments below!
Conclusion
Making your own almond butter is easy and healthy, as you know exactly what ingredients are in it and can avoid any unwanted additives. Plus, it's versatile and can be used in a variety of dishes and recipes.
So why not give it a try and discover the benefits of homemade almond butter? It's not only healthier and more affordable, but also a great way to add a special taste to your meals.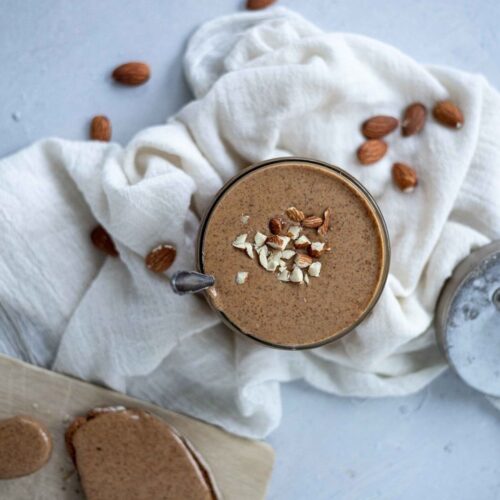 Homemade Almond Butter
You can't go wrong with this classic! Whether you enjoy it pure or as a spread – almond butter is a true staple. Learn how you can easily make your own almond butter at home!
Ingredients
classic almond butter
400

g

almonds

1

pinch

of salt
Almond & cinnamon butter
200

g

almonds

2-3

EL

ground cinnamon

1

pinch

of salt
almond butter with maple sirup
200

g

almonds

80

g

maple sirup grade c

1

pinch

of salt
Instructions
Preheat the oven to 200 °C (385 °F) and distribute the nuts evenly on a baking sheet.

As soon as the oven is warm, put the nuts in the oven and roast them on the middle rack for about 8-10 minutes, depending on the desired degree of roasting.

It is best to look into the oven a few times to see when the nuts are ready – otherwise you might end up with a tray of burned nuts.

For all variations, put the still warm nuts in a food processor, add the salt and then mix on the highest level for about 3-5 minutes. In between, keep pressing the mixture down from the edge so that all the nuts are mixed throughly. Very important: stay patient 🙂

For a long time it looks like nothing is happening – and then all of a sudden it happens very quickly! The warmer the nuts are during processing, the easier it is for the oil to escape from them and turn into puree.

As soon as you notice that a solid mass is forming, you are almost there! Now only continue to pulse for 1-2 minutes until you have reached the desired consistency.

If you stick to the classic variation, you can now pour the mixture into a glass and you're done.

For that extra cinnamon kick, put everything in the blender and stir again for about 1 minute.

The same goes for the sweet spread with maple syrup. If you want, you can also add maple syrup and cinnamon – this is a real treat, especially around Christmas time.
Notes
Almond butter can become very runny, especially when it is still warm. In the fridge it becomes a little firmer and is easier to spread.
Nutrition
Serving:
25
g
Calories:
155
kcal
Carbohydrates:
5
g
Protein:
5
g
Fat:
14
g
Saturated Fat:
1
g
Sodium:
26
mg
Fiber:
3
g
Sugar:
1
g
Vitamin A:
2
IU
Vitamin C:
0.02
mg
Calcium:
91
mg
Iron:
1
mg
Did you like this recipe?
I'd love to hear from you! Comment below.