Your Staple Vegan Recipe That Works Every Time
Duration: approx. 20 min | ⓥ vegan | ⓧ gluten-free
Are you ready for the best homemade hazelnut butter you've ever tasted? It's vegan, sugar-free and uses only 2 ingredients. Read on to learn how to make it easily from home.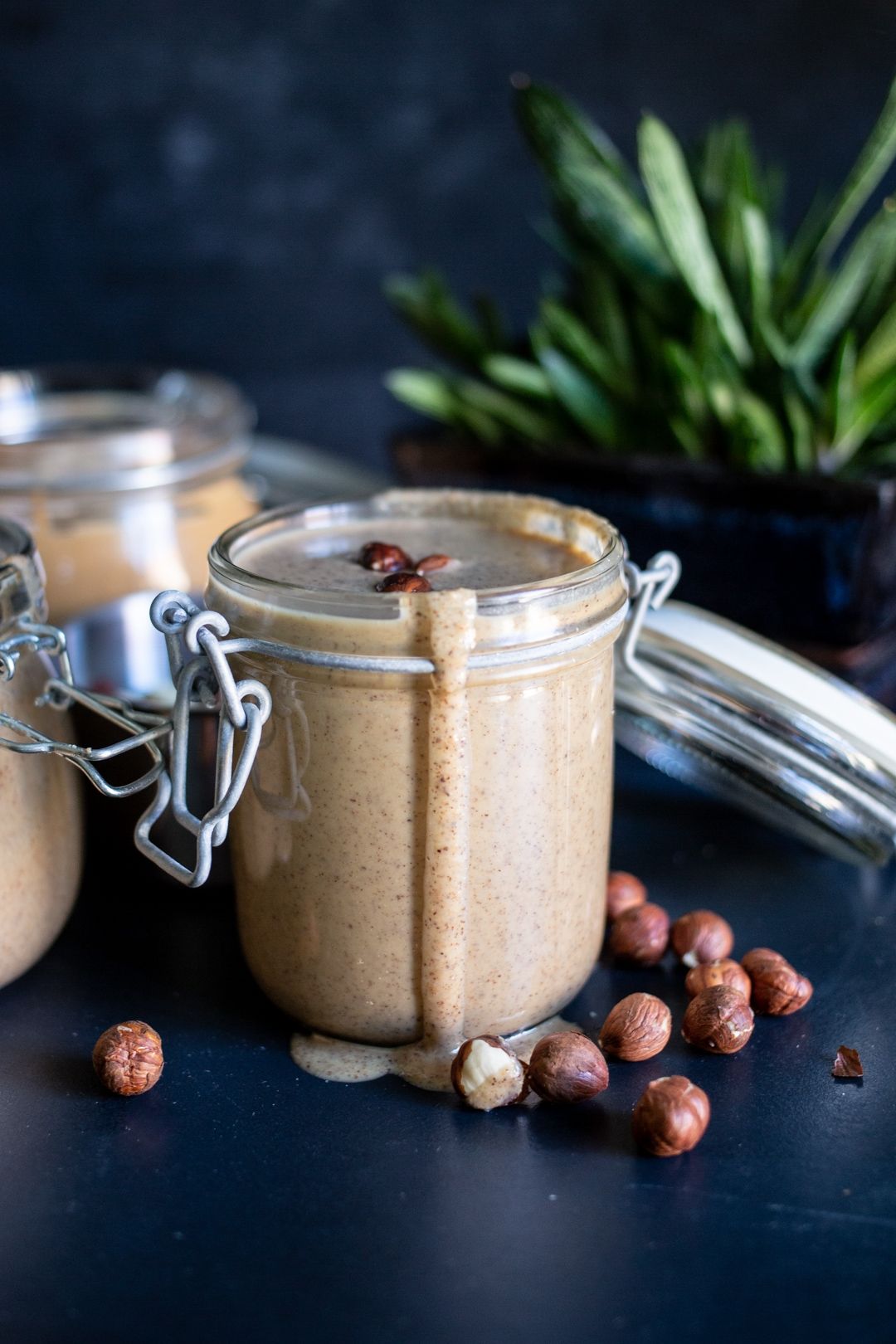 I love hazelnut butter and especially the homemade version has been a staple in my kitchen for years. It is a healthy and delicious alternative to sugary loaded spreads like Nutella, it's super easy to make and so versatile. In this blog post I want to show you how you can easily make your own hazelnut butter at home.
You'll also learn about the benefits of homemade hazelnut butter and I'll share my top tips & tricks with you – so that you will end up with perfect homemade hazelnut butter every single time.
What Can I Use Hazelnut Butter For?
Hazelnut butter has a natural slightly sweet taste to it and is perfect for any dessert.You can enjoy it as a topping on your porridge or as a snack along with some apple slices. Dates filled with hazelnut butter are also one of my favorite sweets.
The Difference Between Hazelnut Butter and Hazelnut Spread
In general hazelnut butter is made from ground hazelnuts and is usually very smooth and creamy. Hazelnut spread is a sweet version of hazelnut butter and often contains added sugar and chocolate. That being said, please make sure to always read the label to see what's added.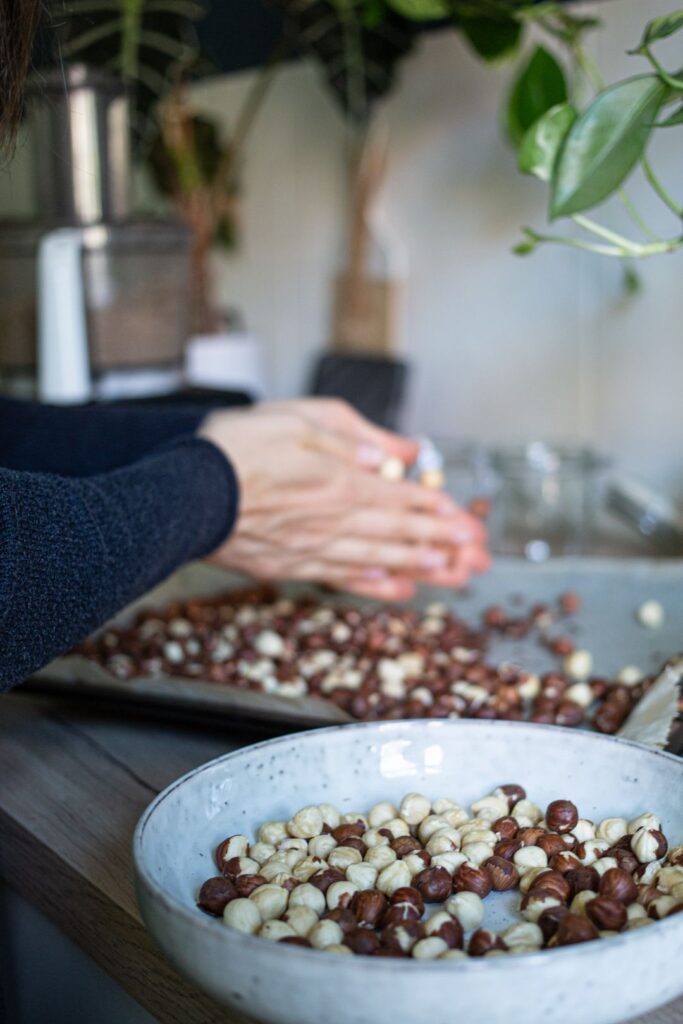 How Long Can You Store Homemade Hazelnut Butter ?
Homemade hazelnut butter is generally very liquid, even when kept in the refrigerator. It will keep for a few weeks if you keep the jar clean. However, it usually doesn't keep that long for us because it's just too delicious!
Is Hazelnut Butter Healthy?
Yes, hazelnut butter is healthy and offers many benefits to your health. Hazelnuts are rich in unsaturated fatty acids, protein, fiber, vitamins and minerals. In addition, hazelnut butter contains no cholesterol, no sodium and no trans fats.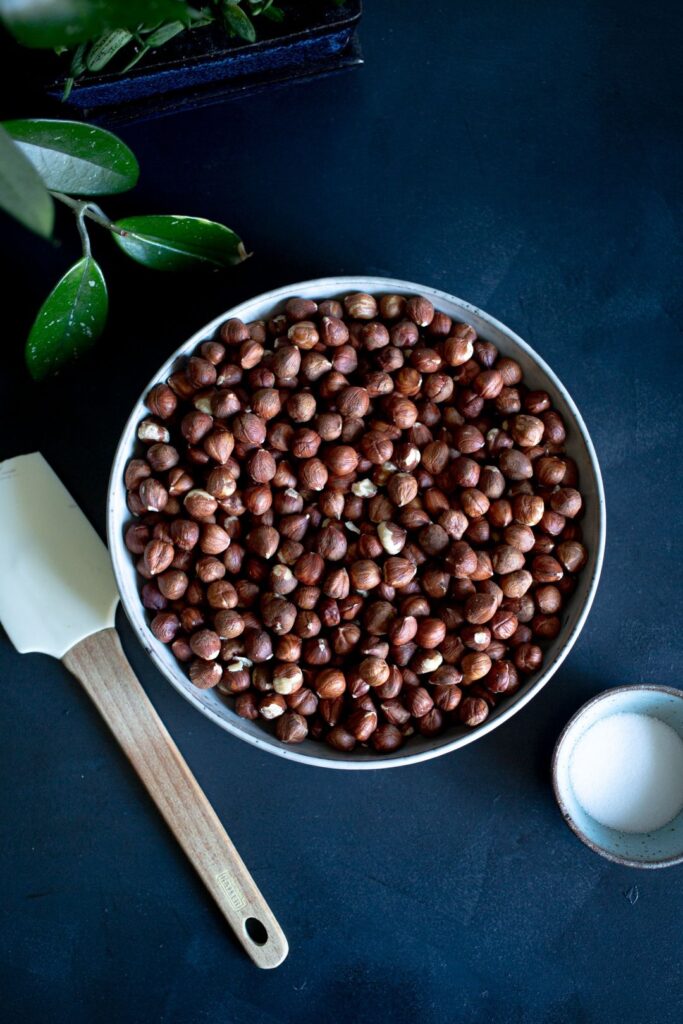 Still Not Convinced? Here Are a Few More Benefits of Homemade Hazelnut Butter:
Cost effective. 200g of organic hazelnut kernels cost about 3,25€, while 250g of hazelnut butter costs about 5,95€ in the store. This means that you save almost half (45%) if you make your own hazelnut butter.
Less waste by avoiding packaging material.
Contains no artificial additives or sugar.
Can be used in many recipes as a substitute for butter or oil.
Versatile in taste and perfect as a snack between meals.
Super easy and fun to make at home.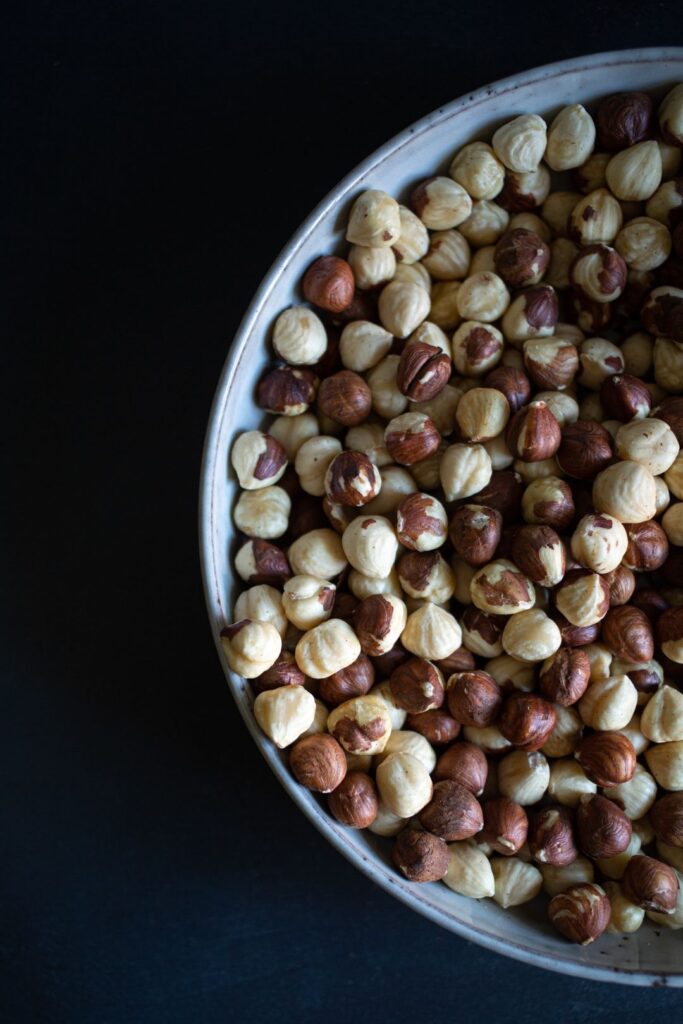 You Love to Go Nuts? I'm Sure You'll Love These Recipes:
Homemade Almond Butter (that only takes 5 Minutes to make)
Conclusion
So why buy that expensive hazelnut butter in the store when it's so much cheaper and easy to make it yourself?
With just 2 ingredients and a blender, you can make your own hazelnut butter and save money, produce less waste, and even adjust the flavor to your individual taste. Sounds good? Here's everything you need to know: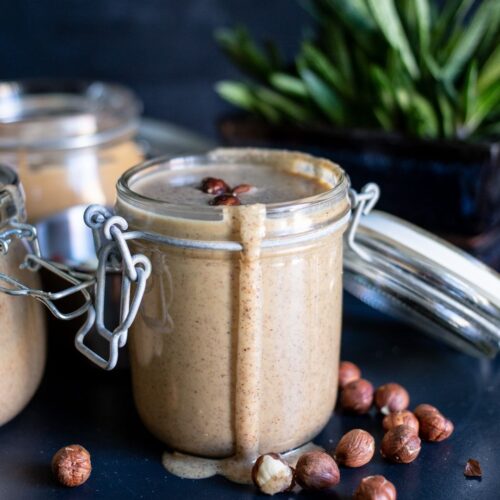 Homemade Hazelnut Butter
Once you try this homemade hazelnut spread, you'll never want to eat store bought again. It's vegan, creamy, uses only 2 ingredients and has no sugar added!
Ingredients
Classic Hazelnut Butter
400

g

roasted hazelnuts

pinch

of salt
Hazelnut Chocolate Spread
200

g

roasted hazelnuts

2-3

Dates

3

EL cocoa powder

pinch

of salt
Instructions
Set the oven to 200 °C (385 °F) and distribute the nuts evenly on a baking sheet.

Once the oven is warm, roast the nuts on the middle shelf for about 8-10 min, depending on the desired degree of roasting. It's best to stay close here, as the nuts burn very quickly.

Once the nuts are done, let them cool slightly and peel off the skin by rubbing them in between your hands.

Put the still warm nuts into a food processor, add the salt and puree on highest speed for 3-5 minutes.

Keep pushing the mixture down from the edge so that all the nuts are ground.

Once you notice a solid mass forming, you're almost there! Now just keep pulsing for 1-2 minutes until you reach the consistency you want.

Hazelnut butter is quiet liquidly – but hardens up slightly if you store it in the fridge. It can be perfectly added as a spread on toast, your oatmeal or drizzled over your apple slices.
Hazelnut Chocolate Spread
For this, just add the remaining ingredients into your food processor and mix for 2-3 minutes until everything is combined. Stores in the fridge for up to 5 days.
Nutrition
Serving:
25
g
Calories:
157
kcal
Carbohydrates:
4
g
Protein:
4
g
Fat:
15
g
Saturated Fat:
1
g
Sodium:
2
mg
Fiber:
2
g
Sugar:
1
g
Vitamin A:
5
IU
Vitamin C:
2
mg
Calcium:
29
mg
Iron:
1
mg
Did you like this recipe?
I'd love to hear from you! Comment below.