Total Time: approx. 20 Min | ⓥ vegan | ⓧ gluten-free
Making your own cashew butter is not only super easy, but it's often much healthier than store-bought products. In this post, I'll show you how to make your own cashew butter in just a few simple steps and highlight the health benefits it offers.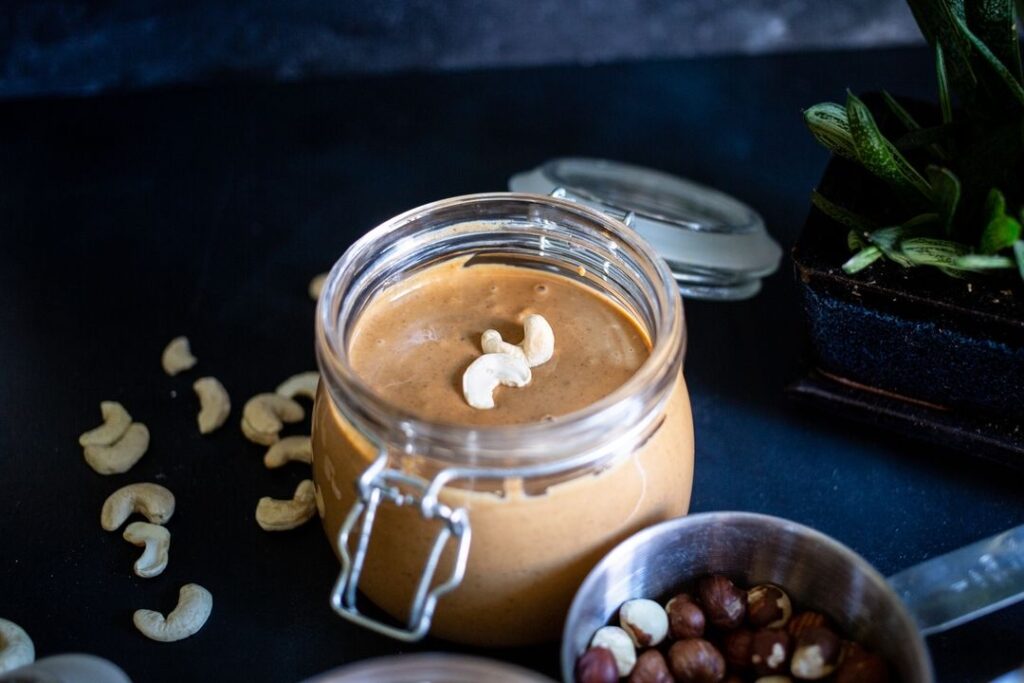 Why are Cashews Healthy?
Cashews are not only delicious, they are also very nutritious. They contain many important nutrients, such as protein, fiber, magnesium, iron, and healthy fats. These can help support the cardiovascular system and reduce inflammation in the body.
Another health benefit of cashews is the amino acid tryptophan, which is a precursor to the happiness hormone serotonin. Tryptophan can have a mood-enhancing effect and has been shown to improve mood. Sounds good, right?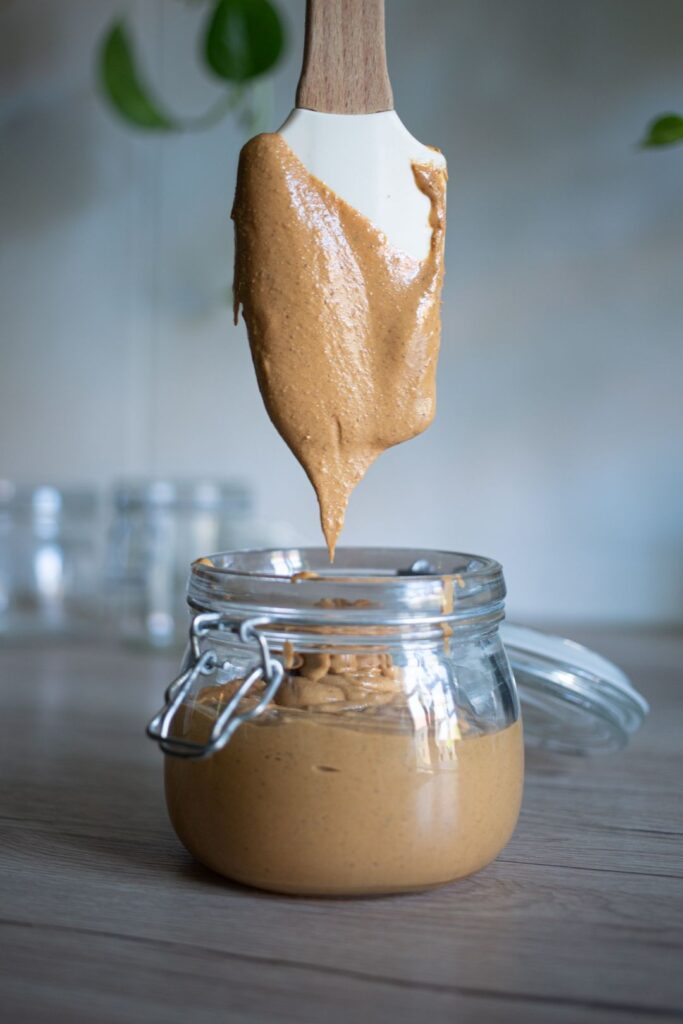 Benefits of Homemade Cashew Butter
It`s cheaper. The first and most obvious benefit of making your own cashew butter is cost. A 250g jar of store-bought cashew butter can cost around €5.99. 300g of organic cashew pieces cost €3.95. That's a cost savings of almost 50%!
Less waste. Another benefit of homemade cashew butter is that you produce less waste. You can store the butter in a clean glass container and use it again and again without having to buy a new package each time.
Customizable flavor. Additionally, you can customize the roasting level and flavor by adding cinnamon or vanilla, for example, to refine it.
Organic ingredients. If you use organic cashews, you can be sure that there are no pesticides or other harmful chemicals involved. It is also important to look for fair products and ensure that the cashews come from a sustainable source.
How Long Does Homemade Cashew Butter Last?
Since our recipe for homemade cashew butter does not contain preservatives, its shelf life is limited. It should be stored in the refrigerator and will last for about two weeks. If you want to store it longer, you can freeze it and just defrost as needed.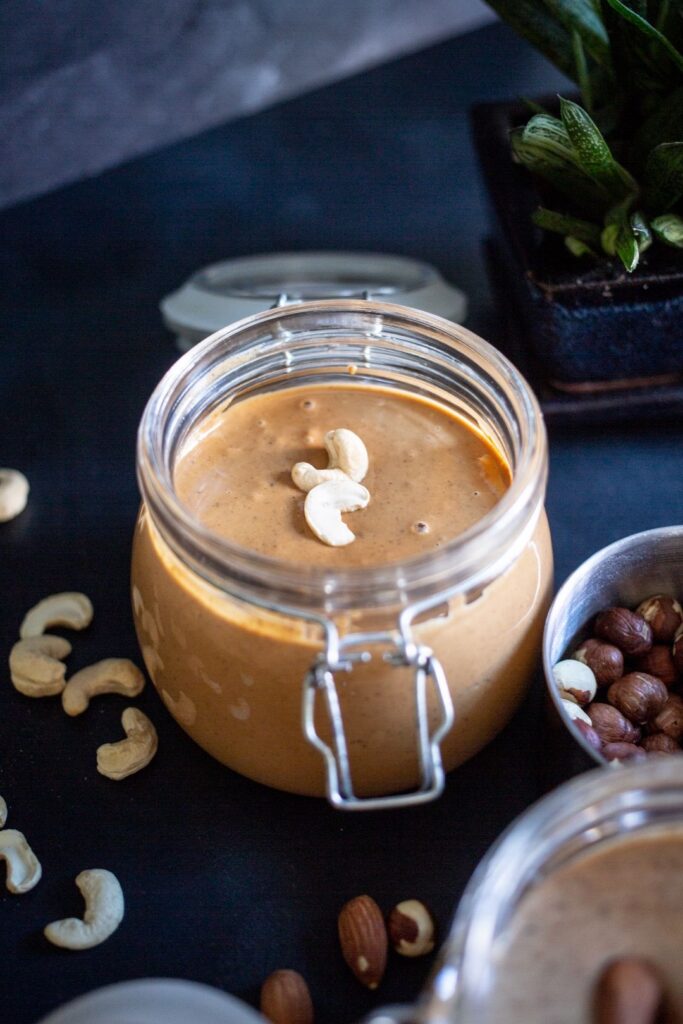 What Can You Use It For?
Cashew butter is incredibly versatile – whether as a healthy spread instead of butter, as a fat alternative for baking, or as a snack in between meals. Whether sweet or savory, here are some of my favorite recipes:
Dip for Summer Rolls
You love nut butters? Then make sure to also try my other recipes:
Homemade Hazelnut Spread (inkl. the recipe for the best vegan chocolate spread)
Conclusion
Voila, your homemade cashew butter is ready! Easy, affordable, and healthy – what more could you want? Give it a try and let me know in the comments below how it tasted!
That`s how you make your homemade cashew butter: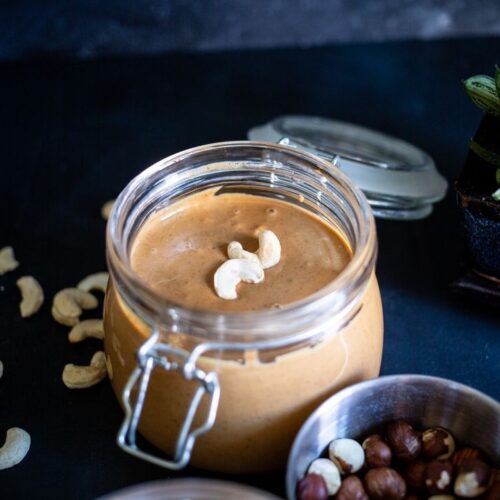 Homemade Cashew Butter
Cashew butter is incredible versatile and can be used as a spread, for smoothies, pasta sauces and much more! Learn how you can make your own at home in as little as 20 minutes.
Ingredients
400

g

cashews

pinch

of salt
Optional
1

EL

Spices such as cinnamon

cardamon, curcumin
Instructions
Set the oven to Preheat the oven to 200 °C (385 °F) and distribute the nuts evenly on a baking sheet.

Once the oven is warm, roast the nuts on the middle shelf for about 8-10 min, depending on the desired degree of roasting. It's best to stay close here, as the nuts burn very quickly.

Put the still warm nuts into a food processor, add the salt and puree on highest speed for 3-5 minutes.

Keep pushing the mixture down from the edge so that all the nuts are ground. Cashews take a little longer to turn into mush, so it's important that they are still warm when you process them so that the oil can be extracted more easily.

Once you notice a solid mass forming, you're almost there! Now just keep pulsing for 1-2 minutes until you reach the consistency you want.

Cashew puree should be runny, but still creamy – if you store it in the fridge, it will stay a bit harder and is perfect as a spread. Otherwise, you can store it dark and dry in your pantry.
Nutrition
Serving:
25
g
Calories:
138
kcal
Carbohydrates:
8
g
Protein:
5
g
Fat:
11
g
Saturated Fat:
2
g
Sodium:
5
mg
Fiber:
1
g
Sugar:
1
g
Vitamin C:
0.1
mg
Calcium:
9
mg
Iron:
2
mg
Did you like this recipe?
I'd love to hear from you! Comment below.