Your Foolproof Recipe For Every Day
Time: approx. 10 Min | ⓥ vegan | ⓧ gluten-free
Want to make your own oat milk but don't know where to start? In this post you will learn how it works. This version of homemade oat milk takes less than 5 minutes, tastes fresh, and the biggest advantage compared to the store-bought version: It is not sweet and also tastes great savory dishes like lasagna!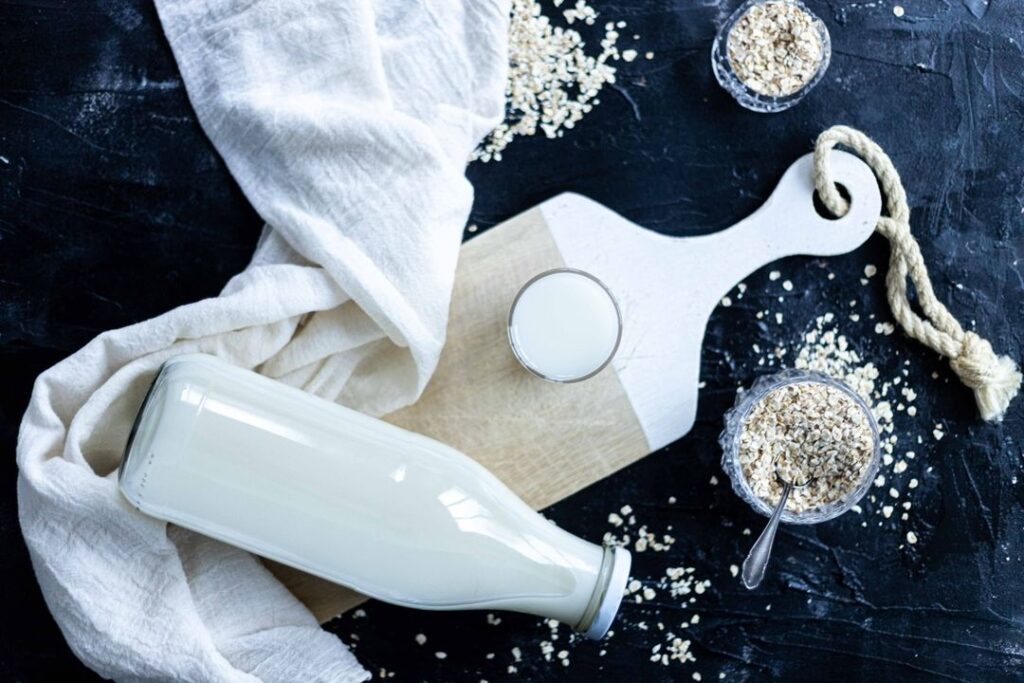 I'll be honest with you, I used to be lazy and didn't bother making my own oat milk. However, due to recent shortages, I've started making it myself more often and can now say that I absolutely prefer homemade oat milk over store-bought.
Oatmilk is lactose-free, soy-free, and doesn't contain any whey protein. Plus, oats are high in fiber, which keeps you full and is good for your gut health. Oats also contain several minerals like magnesium, phosphorus, iron, and zinc. Additionally, oat flakes have the highest Vitamin B1 and B6 content compared to other grains and provide plant-based iron on top of that.
And the best part? With homemade oat milk, there's no stopping you from having a late-night baking session on Sundays! I speak from experience 🙂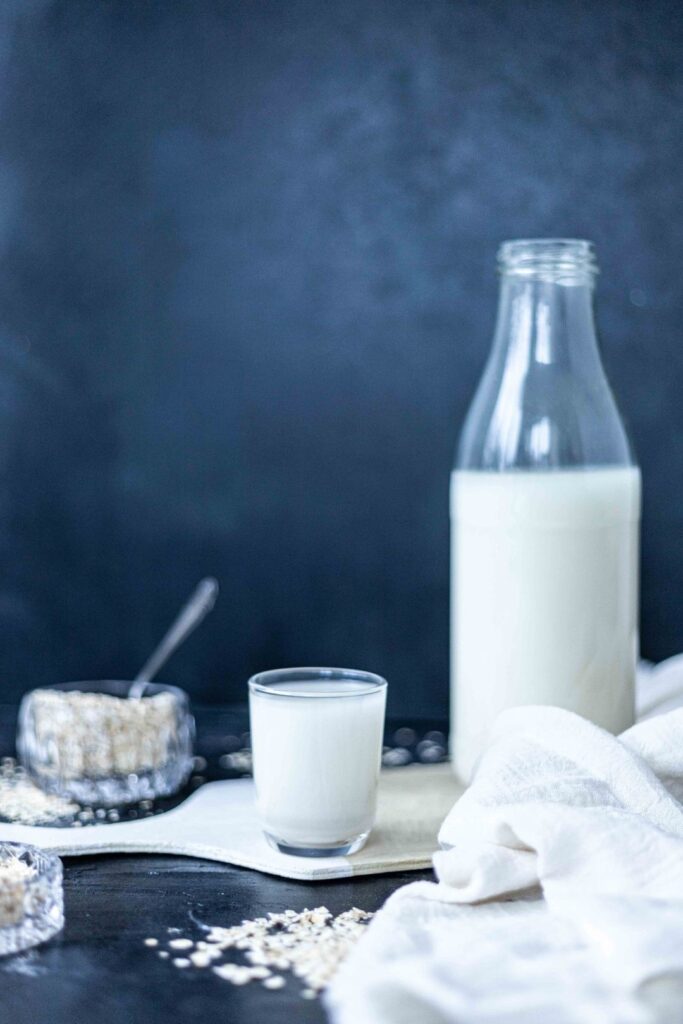 What Can You Use Your Homemade Oat Milk For?
You can use your homemade oat milk to bake, like in my lemon cake recipe. You can use it as a substitute for cream in curries, or as a perfect base for your bechamel sauce. If you have a sweet tooth, you must try my raspberry smoothie recipe!
Benefits of Homemade Oat Milk:
• Cheaper – 500g of organic oat flakes cost around 99 cents.
• Plastic-free – You avoid tons of waste.
• Healthier – You know what's in it and avoid any additives!
• Versatile – You can also make oat cream and use it for savory dishes.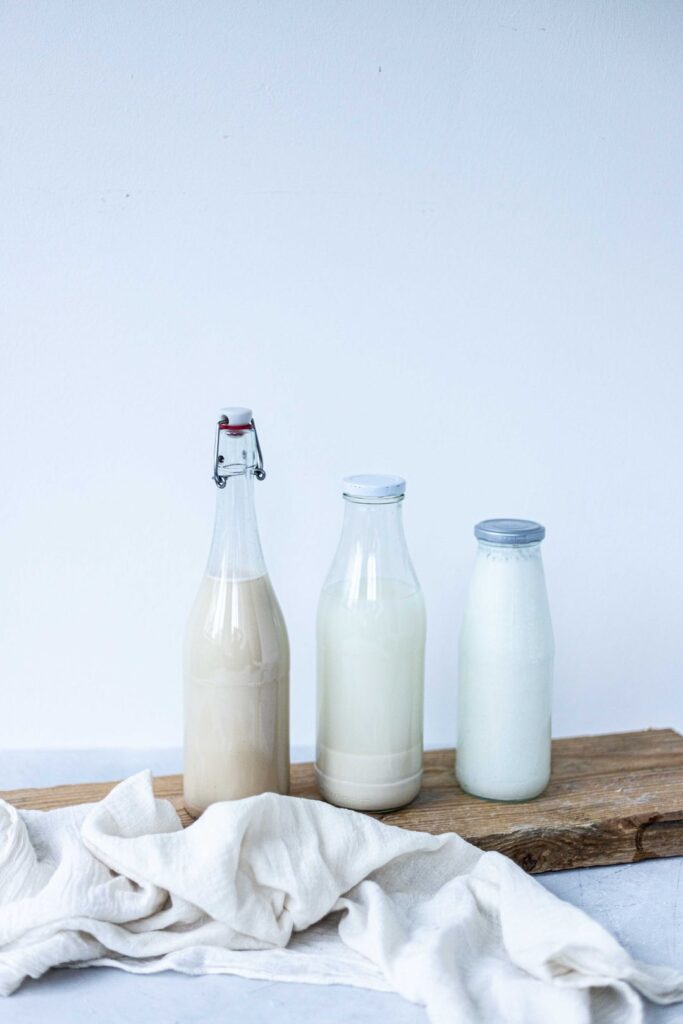 FAQ's:
Which Oat Flakes Can You Use for Oat Milk?
For a creamy, non-slimy consistency, it's best to use fine oat flakes. Important tip: DO NOT soak them beforehand!
Why Does Store-bought Oat Milk Taste Sweet?
Store-bought oat milk is an industrial product, and like most industrial products, it's meant to last as long as possible. To achieve this, enzymes are added to the oat/water mixture and then heated. This manufacturing process breaks down the starch in the oat flakes into its individual components, the monosaccharides, which are a type of sugar. This results in a sweeter taste, and the oat flakes are already "pre-digested" since the enzymes in our bodies would do that job otherwise. That is also the reason why store-bought oat milk is relatively high in sugar – up to 5grams per 100ml!
Is Homemade Oat Milk Gluten-Free?
Oats are naturally gluten-free. However, they're sometimes processed in a non-gluten-free environment. Therefore, if you want to make truly gluten-free oat milk, make sure to buy gluten-free oats.
How Long Does Homemade Oat Milk Last?
Homemade oat milk lasts about 3-5 days in the fridge. Since it's a natural product, and we don't use any emulsifiers, the milk may separate. But that's okay – just give it a shake, and it's good to go again. I always prepare smaller amounts of fresh oat milk.
Additional Tips & Tricks
Use organic oats if possible. They are less contaminated and still much cheaper than store-bought oat milk.
Don't soak the oats beforehand – this will make them slimy! It's best to always prepare your oat milk fresh.
You can perfectly prepare and freeze your oat cream. Simply mix 100g oat flakes with 500ml water and 1 tbsp oil, pour into ice cube trays and you're done! Just add to your stew whenever needed.
You prefer something a little more special? I'm sure you'll love these drinks:
DIY Almond Milk – ready in 5 Minutes, using my little secret ingredient 🙂
Homemade Coconut Milk (perfect as a refreshing summer drink!)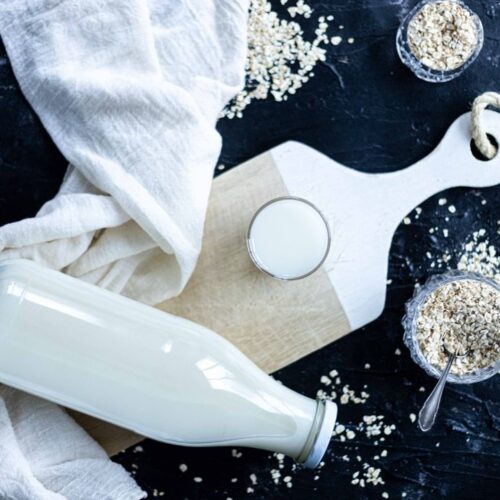 How To Make Oat Milk
Homemade oat milk is an easy and delicious alternativet o store-bought milk. In just a few minutes, you can make your own fresh,creamy oat milk that's perfect to use in recipes, smoothies, or just as a refreshing drink.
Ingredients
1

liter

still water

50-70

g

oats

2-3

dates

optional

1

pinch

of salt
Instructions
Put the oat flakes together with the water and the remaining ingredients in a high-performance mixer and chop well for about a minute.

Next sieve everything through a cloth , fill into a clean container and that's it! You've got yourself some fresh oat milk.

To spice it up, you can add some cinnamon or vanilla and make it a rereshing, tasty snack.

The milk will keep in the refrigerator for around 3-4 days – depending on where you live.
Notes
Since homemade oat milk is a natural product and we do not use emulsifiers, the milk will settle out. Just shake it once and it is immediately ready to use again.
If you like the oat milk a little more frothy, just add 1-2 tablespoons of neutral oil. Then you have a "real" Barista Edition at a fraction of the price.
For oat cream you can just take more oatmeal – about 100 g to 500 ml of water and 1 tbsp oil. Let the whole thing sit for 10 minutes, put it through the mixer and that's it. The oat cream, for example, can also be frozen in ice cube trays – so you always have fresh "cream" on hand when you need some for cooking.
Nutrition
Serving:
250
ml
Calories:
62
kcal
Carbohydrates:
12
g
Protein:
2
g
Fat:
1
g
Saturated Fat:
0.1
g
Sodium:
11
mg
Fiber:
2
g
Sugar:
3
g
Vitamin A:
1
IU
Vitamin C:
0.02
mg
Calcium:
9
mg
Iron:
1
mg
Did you like this recipe?
I'd love to hear from you! Comment below.