Vegan, Cheap And So Good!
Time: Approx. 10 Min | ⓥ Vegan | ⓧ Gluten-free
This homemade coconut drink tastes fresh and summery, contains no additives, and is completely vegan. As always, you can adjust the intensity by adding more or fewer coconut flakes – you can even make your own coconut milk with this recipe!
Now, let me start by saying that coconut drinks and I didn't hit it off at first. The taste of the store-bought ones reminded me of a particular sunscreen I used in my teenage years – not exactly what I want in my coffee, right? But since I love coconut milk and was searching for a non-oat milk alternative, I decided to give it another shot, and boy am I glad I did!
This homemade coconut drink is fresh and summery, and it's super easy to make – all you need are coconut flakes, water, a pinch of salt, and a blender. Plus, you can adjust the intensity of the coconut flavor by adding more or fewer flakes, and you can even use this recipe to make your own coconut milk!
The best part? It's perfect for adding to your iced coffee, smoothies, or enjoying as a refreshing drink on its own. It's like a mini vacation in a glass – transporting you to a beachy paradise with every sip.
What You Need for This Recipe
Coconut flakes. The coarser the coconut flakes are, the fresher they taste. However, you can also use regular shredded coconut flakes.
Sweetener. If you like your coconut drink a bit sweeter, simply add 1-2 dates. Alternatively, you can use maple syrup or any sweetener of your choice.
Salt. A pinch of salt enhances the taste – we perceive the flavors more intensely and they can unfold well.
Equipment. You need a strong blender and a cloth or sieve through which you can strain your milk at the end. Alternatively, you can use an immersion blender. A clean glass bottle is recommended for storage.
Benefits of Homemade Coconut Milk
Reduces packaging waste.
Free of additives. This recipe contains only coconut flakes, salt, and water.
Takes only 5 minutes to make, and you always have fresh coconut milk at home.
Affordable and readily available. All you need is a blender and coconut flakes.
Vegan, healthy, and easy to make.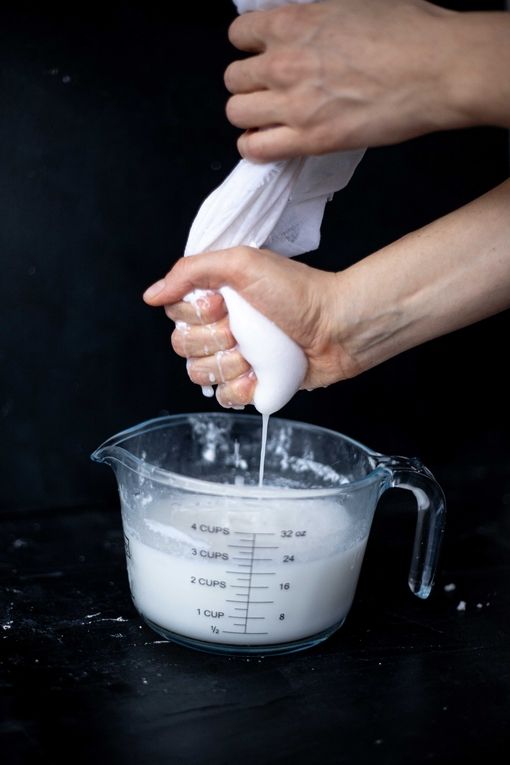 Frequently Asked Questions
What Can I Do with the Leftover Coconut Flakes from This Recipe?
You can use the shredded coconut pieces for baking, sprinkle them on your cereal, or use them, for example, for my Vegan Bliss Balls :).
What Is the Difference Between a Coconut Drink and Coconut Milk?
Basically, it's the amount of water. Halve it to get creamier coconut milk.
How Long Does Homemade Coconut Milk Last?
This coconut milk lasts about 3 days in the refrigerator. The fat may separate as coconut fat tends to harden in the cold. Simply hold it under lukewarm water for a moment, and your coconut milk is ready to use!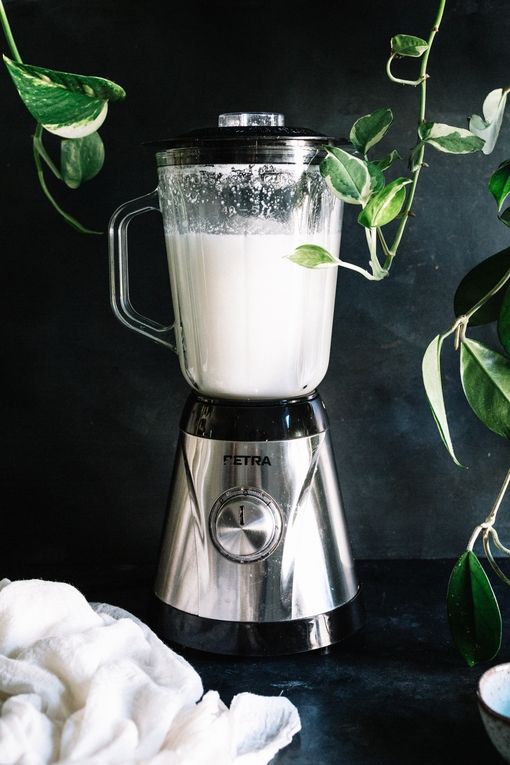 You might also like:
Vegan Coconut Drink
This vegan and gluten-free coconut drink is a creamy and the star at all summer parties! It's easy to make with natural ingredients and can be customized to your likings.
With just a few simple steps, you can enjoy a flavorful and healthy drink that's sure to satisfy your cravings.
Ingredients
1

l

water

120

g

dried coconut flakes

2-3

dates

optional

1

pinch

of salt
Instructions
For your homemade coconut drink, put the coconut flakes, salt and water in a high speed blender and let everything steep for 5 minutes.

Next, blend the mixture for about 1-2 minutes, until you see a milky liquid consistency appear.

If you desire more sweetness you can now add your dates (or any other sweetener) and mix until combined.

Then strain everything through a cloth and squeeze off the milk.

You will notice that the coconut flakes are still quite firm – you can dry them and then use them for your muesli or to bake delicious cookies.

The finished coconut drink can be kept in the fridge for about 2-3 days.
Notes
Since coconuts have a relatively high amount of natural fats, it might separate a bit when it's cold. If that's the case then don't worry – just warm it up briefly to make it liquid again
Nutrition
Serving:
250
ml
Calories:
213
kcal
Carbohydrates:
11
g
Protein:
2
g
Fat:
19
g
Saturated Fat:
17
g
Sodium:
24
mg
Fiber:
5
g
Sugar:
6
g
Vitamin A:
1
IU
Vitamin C:
0.5
mg
Calcium:
17
mg
Iron:
1
mg
Did you like this recipe?
I'd love to hear from you! Comment below.