Foolproof, Vegan and Oil-Free!
Duration: approx. 10 Min | ⓥ Vegan | ⓧ Gluten-free
Love hummus but think making it yourself is too much of a hassle? Think again! Follow my ultimate guide, and I'll show you all the tips and tricks to make the best and creamiest hummus at home. It's fresh, vegan, packed with protein, and can be enjoyed warm or cold.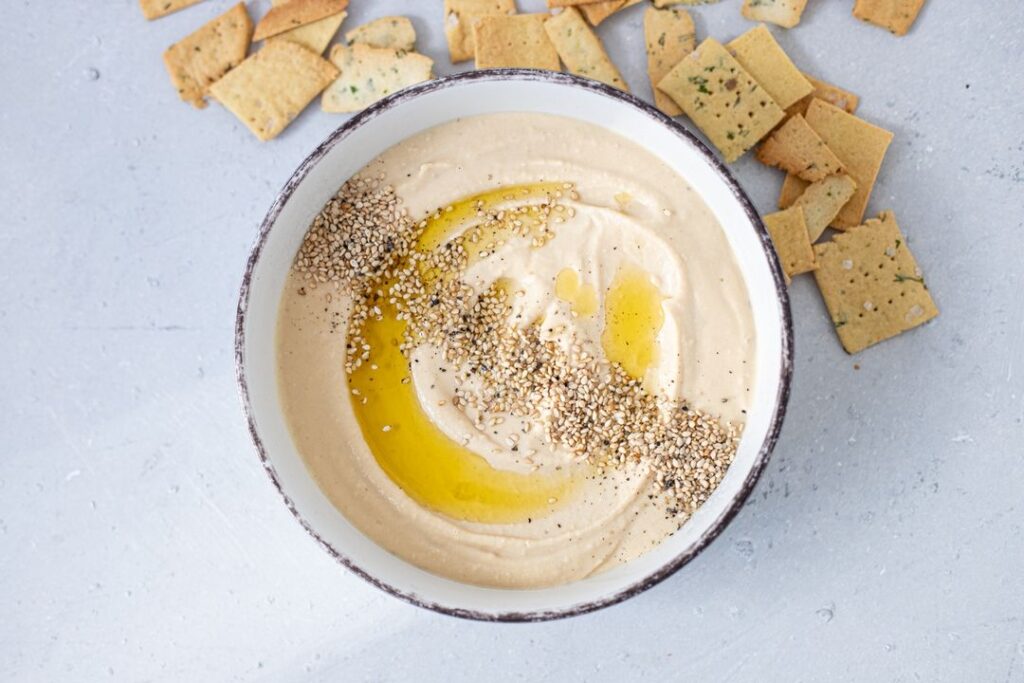 What is Hummus?
Hummus, a delicious chickpea dip, is a popular dish from the Middle East that has gained worldwide appeal. Hummus is known for its rich flavor and creamy texture. It has a slightly nutty and tangy taste with a subtle hint of garlic, making it perfect as a spread, in pitas, or as a snack.
And Why Should You Make Hummus Yourself? In store-bought hummus, cheap oils and sugars are often hidden. But with homemade hummus, you get to decide what goes into the bowl. Plus, it's much more cost-effective, reduces plastic packaging waste, and allows you to season it to your liking.
What's the Secret to Creamy Hummus?
The Secret to Velvety Creamy Hummus In my opinion, the big secret lies in three things: peeled chickpeas, ice cubes, and 10 minutes of your time. That's all you need. Most recipes blend everything for 2-3 minutes, but by adding the ice cubes individually, you achieve a velvety creamy hummus that's simply perfect.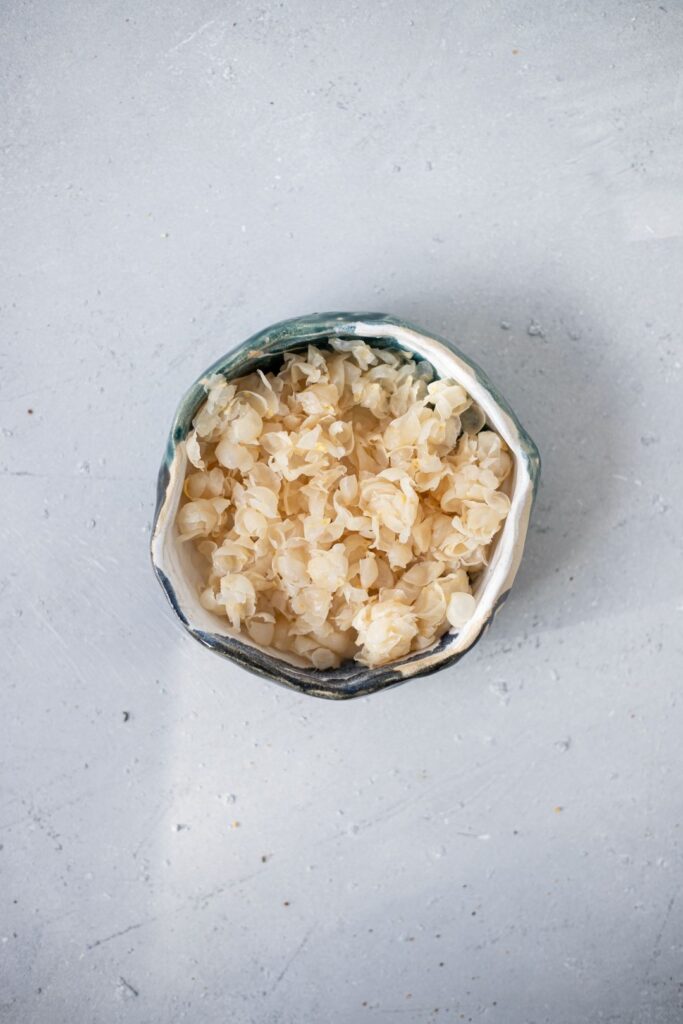 What Ingredients Do You Need to Make Really Good Hummus?
For this basic recipe, you only need 7 ingredients: cooked chickpeas, tahini, salt, pepper, lemon juice, garlic, and ice cubes – that's it. Ideally, you have a good food processor to make your life easier. If not, you can still blend the hummus with an immersion blender, but it will take a bit longer
How Can I Thicken My Hummus?
If your hummus has turned out too thin, don't worry. Gradually add spoonfuls of chickpeas until you reach your desired consistency. Adjust the seasoning if necessary.
If You're Preparing Your Homemade Hummus for Later: Keep in mind that your chickpea dip will thicken a bit more over time, so don't go overboard with the garlic (speaking from experience here 😉). When you store it in the refrigerator, it will also firm up slightly.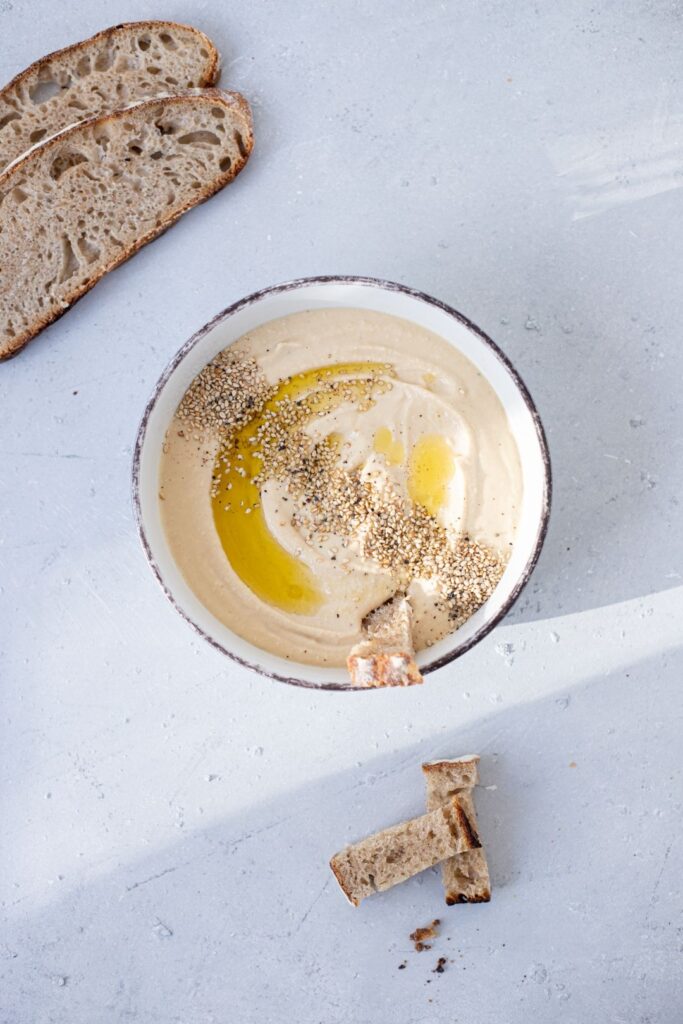 Do I Have to Cook My Chickpeas from Scratch for Perfect Hummus?
No, you don't have to. However, if you have the time, I highly recommend it. It's more cost-effective, sustainable, and self-cooked chickpeas are easier to digest for many people. In this recipe, you'll learn how to cook chickpeas from scratch. Personally, I cook a large pot every 2 months, freeze them in portions, and always have fresh chickpeas ready to go.
How Can I Enhance the Flavor of Hummus?
I could write an entire page on this topic alone – there are so many fantastic variations of the classic hummus recipe! Whether it's a beetroot dip or a bean and mint hummus without chickpeas, your imagination knows no bounds!
Why not try adding new spices to your classic hummus, like a teaspoon of 5 Spice? It adds a slightly sweet note and is absolutely delicious. Prefer something sweet? Leave out the garlic and add a tablespoon of cocoa powder – voila! You have a tasty, protein-rich chocolate dip.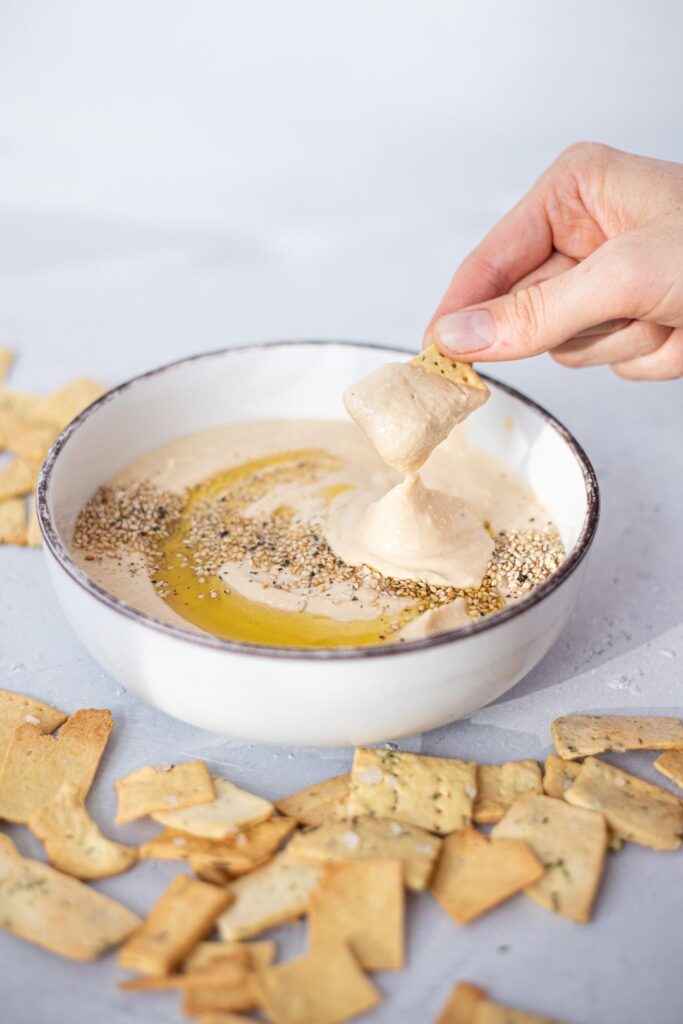 What Can I Eat Homemade Hummus With?
For me, hummus is the perfect companion for almost any meal. I love it as a healthy dip with fresh vegetables or chickpea crackers. It's also delicious as a side dish for roasted vegetables, thinned out as a salad dressing, spread on bread, or as a condiment for grilling.
Can Hummus Be Enjoyed Warm?
Absolutely! I love using hummus as a cheese substitute in tortillas. You can also dilute it with a little water to create the perfect, protein-rich pasta sauce in just 2 minutes. And of course, you can warm it up and enjoy it as a dip.
Is Hummus Good for Digestion?
Hummus is rich in fiber, protein, and healthy fats, which can contribute to a healthy digestion. The fiber helps regulate digestion and promotes bowel movements. Additionally, hummus contains probiotics that support the healthy bacteria in your gut, positively affecting digestion. By regularly consuming hummus, you can improve your digestion and promote a healthy gut flora.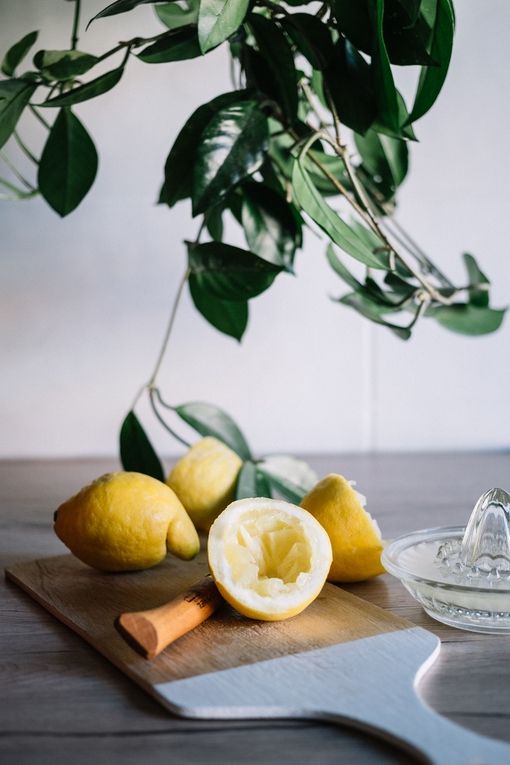 How Long Does Homemade Hummus Last? Can I Freeze It?
Homemade hummus can last in the refrigerator for about 3 to 5 days, depending on the weather and freshness of the ingredients. You can also freeze it in portioned containers. This way, homemade hummus can last for about 2 to 3 months. Before consuming, simply thaw it in the refrigerator and give it a good stir, and your hummus will be as good as new.
Liked this recipe? Check out these other easy vegan dip recipes: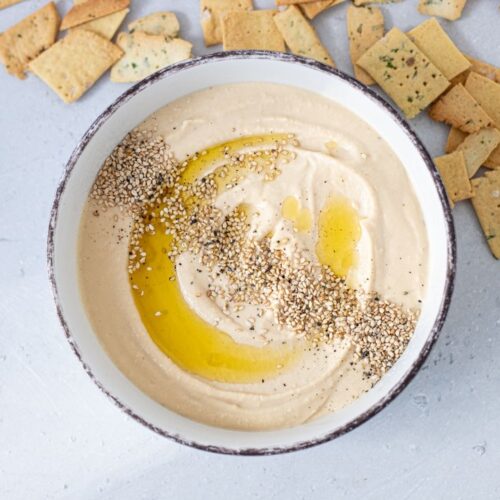 Making Hummus at Home
With this delicious and healthy homemade hummus you'll never go hungry. This vegan and gluten-free recipe is perfect for any occasion!
Ingredients
Dry
1-2

cloves

of garlic

juice of 1 lemon

½

tsp

salt

½

tsp

cumin

1

pinch

of pepper
Liquid
50

ml

tahini

80

ml

cold water

3-4

ice cubes
Instructions
Drain chickpeas and place in a pot of water.

Rub between your hands a few times until the shells come off. This step is optional, but it makes the hummus extra creamy – so it's one of the most important steps in my eyes 🙂

Next, remove the shells from the pot, strain the chickpeas and set aside.

Add the tahini, garlic, lemon juice, spices and water to a blender.

Blend everything together until a light colored mixture is forms (about 30 sec-1 minute).

Then add the chickpeas to the mixture and blend everything on high speed for 4-5 minutes.

Gradually add the ice cubes until the hummus has the desired consistency.

Finally, taste again, transfer to a bowl and put it in the fridge. And just like that, your homemade hummus is ready to enjoy at any time !
Nutrition
Serving:
100
g
Calories:
121
kcal
Carbohydrates:
10
g
Protein:
5
g
Fat:
8
g
Saturated Fat:
1
g
Sodium:
435
mg
Fiber:
3
g
Sugar:
0.01
g
Vitamin A:
19
IU
Vitamin C:
1
mg
Calcium:
40
mg
Iron:
1
mg
Did you like this recipe?
I'd love to hear from you! Comment below.