The Perfect Snack for Every Day
Duration: approx. 15 Min | ⓥ Vegan | ⓧ Gluten-free
Try these irresistible chickpea crackers made with only 5 ingredients. They are quick to prepare, bursting with flavor, and packed with an extra dose of protein and fiber. Plus, they're naturally vegan and gluten-free.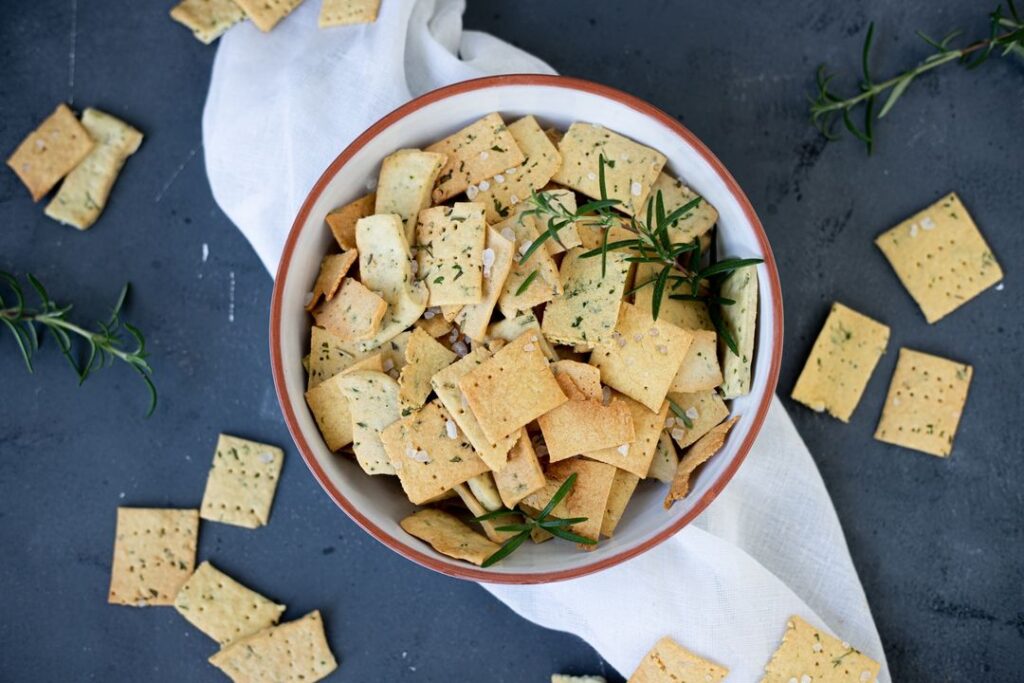 These crackers are the perfect snack when you're craving something salty and incredibly delicious. And the best part? They're gluten-free, vegan, and nut-free. You can also customize them to suit your taste, so there's definitely something for everyone.
What really impresses me is the high protein content of chickpea flour – which ranges between 20-25g per 100g. It also contains all nine essential amino acids that the body needs to build and repair muscle tissue. That's why chickpea flour is particularly suitable for people following a plant-based diet or looking for protein-rich alternatives.
Furthermore, chickpea flour is rich in fiber, which plays an important role in maintaining a healthy digestion and can contribute to long-lasting satiety.
Sounds too good to be true? Then keep reading and let me convince you with my savory chickpea flour crackers.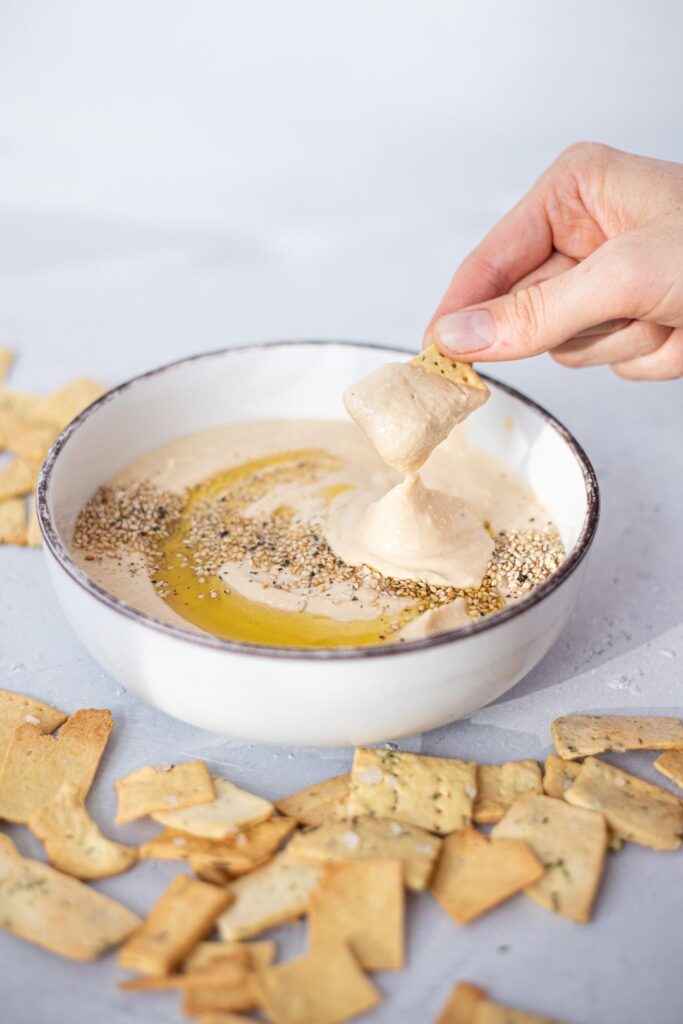 Why You'll Love This Recipe
Super nutrient-rich – high in protein and healthy fiber
Ready in 15 minutes with just 5 ingredients
Perfect for meal prep: the gluten-free rosemary crackers stay fresh for up to a week
Ideal for your next movie night or as a savory snack anytime
Wonderfully hearty with an intense flavor
And Here's What You Need for The Chickpea Crackers
Chickpea flour – nutty flavor
Baking powder – to make them nice and crispy
Olive oil – to make the dough smooth
Water – for thinning the dough
Spices: salt, rosemary, optional other herbs depending on your taste
Instructions
First, mix the olive oil with all the spices and salt. In a separate bowl, mix the chickpea flour, salt, and gradually add the olive oil mixture. If the dough becomes too firm, add 1 tablespoon of water.
The dough should be easy to shape but not stick to your fingers.
Roll out the dough between two baking mats, ensuring it's evenly thick.
If you like, use the back of a knife to create a few lines, so you'll have small crackers after baking. You can vary the shape.
Use a fork to poke small holes. This step is optional. If you don't poke holes, the crackers will puff up more and become less crispy.
Bake the crackers at 180 degrees Celsius for about 5-10 minutes, until the edges turn golden brown. Let the crackers cool briefly; they'll become even crispier. Store them in an airtight container for up to 7 days.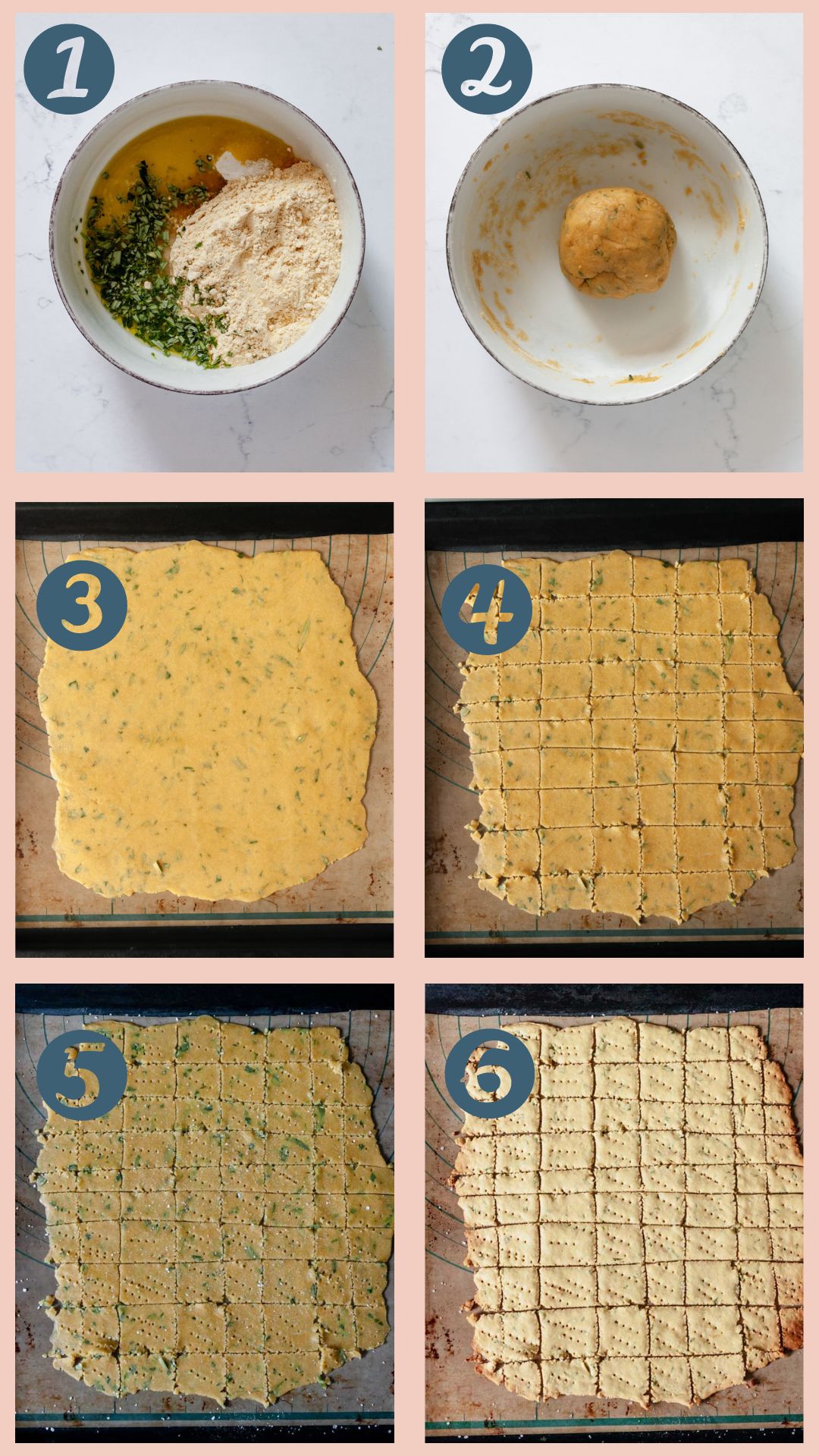 What Goes Well With These Gluten-free Sea Salt Crackers?
Honestly, they're perfect as a snack anytime, just like you would enjoy any other crackers. I love eating them with hummus or alongside fresh vegetables. You can also crumble them on top of your salad for an extra crunch or serve them as a snack replacement for your next movie night.
Recipe Variations and Alternatives
Get creative with different spices and herbs. Whether it's turmeric, chili, cumin, or perhaps the sugar-cinnamon version – there are no limits to your creativity here!
Quick tip: Take it slow, start with ½ – 1 tsp of loose spices or 1 tsp of fresh herbs – then see what you like and which combinations work for you.
If you don't like the taste of olive oil or don't have any on hand, you can use your favorite oil, a more neutral option like sunflower oil, or melt a piece of (vegan) butter.
Instead of chickpea flour, you can also use spelt, wheat, rye, or whole wheat flour. Since these types of flour contain gluten, the dough will be slightly tougher, so you might need to add 1-2 tsp more water.
Not a fan of the taste of chickpea flour? Then add something like garlic and chili to the dough – or other strong herbs that can mask the flavor.
Consider adding some seeds like sesame, chia, or flax seeds for added texture and nutritional value.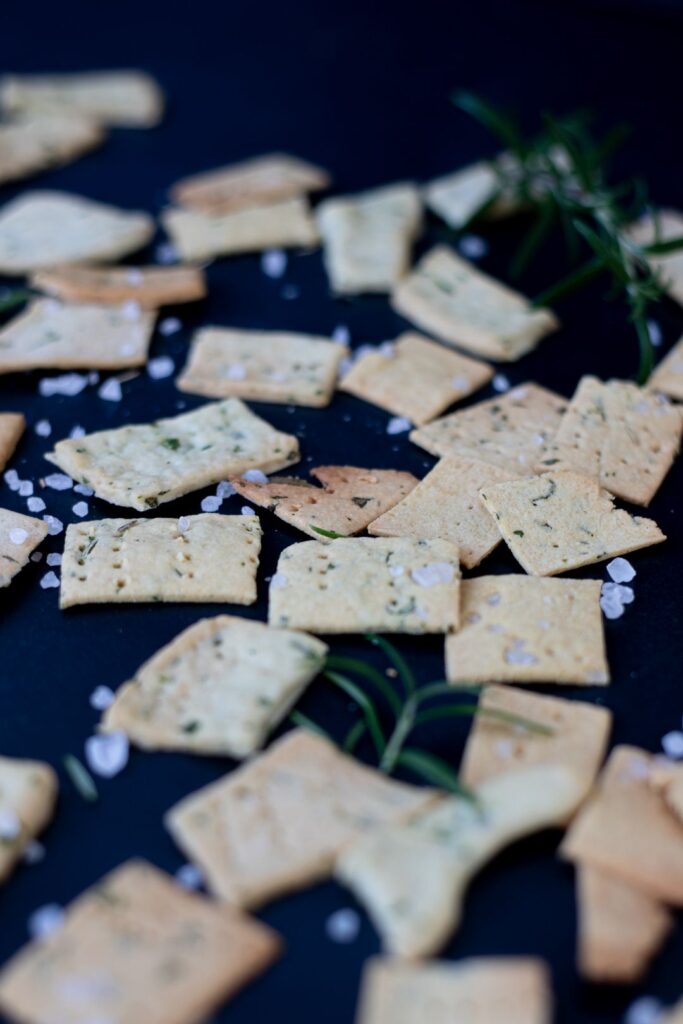 Tips & Tricks for the Perfect Chickpea Crackers
Stay close to the oven! These babies burn really quickly. As soon as the edges turn slightly brown, you can take them out of the oven. The baking time may vary depending on the thickness of the dough.
The consistency of the dough varies from brand to brand of chickpea flour. If needed, you can add a bit more oil to make it smoother. The goal is to have a dough that rolls out easily. It's better for it to be slightly moist than too dry, as it can become crumbly otherwise.
I always use reusable baking mats – they make the crackers much easier to remove.
Roll the crackers thinly for extra crispiness. They're ready when you see small bubbles on the surface and they have a light brown color.
Roll them out evenly to avoid the edges from burning.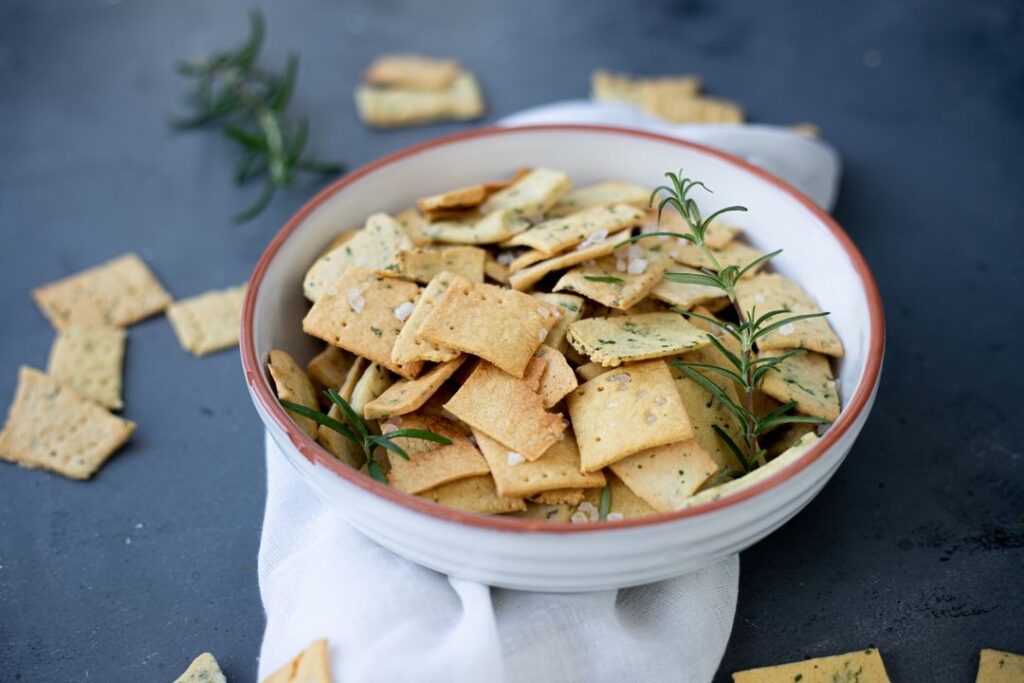 Storage
In an airtight container: The savory chickpea crackers stay fresh the longest if you let them cool completely before storing them in an airtight container. They'll stay good for about a week! If they have absorbed some moisture, you can always reheat them for a few minutes to make them taste fresh again.
Freezing: You can also make a batch of homemade chickpea crackers and freeze them for later. Important tip: please freeze them in a sealed container. They won't be as crunchy after thawing, but you can easily freshen them up by either baking them in the oven or popping them in the air fryer for 2-3 minutes.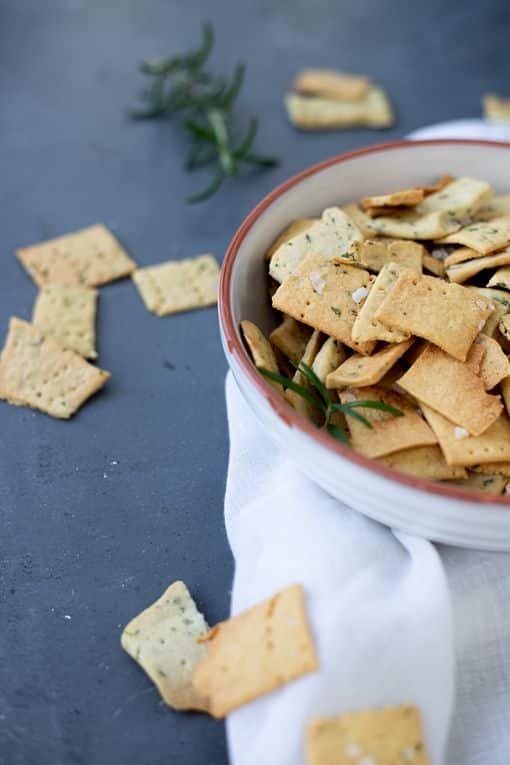 Frequently Asked Questions about Chickpea Crackers
What is Chickpea Flour?
Chickpea flour, also known as gram flour or chana flour, is made from ground chickpeas. It's a versatile ingredient used in many kitchens around the world. Chickpea flour has a fine texture and a slightly nutty flavor.
Can I Eat Chickpea Flour Raw?
No way! Raw chickpea flour naturally contains an enzyme called trypsin inhibitor, which can interfere with the absorption of protein and nutrients in the body. This enzyme is destroyed by heating or cooking chickpea flour. So, it's always advisable to heat or cook chickpea flour before consuming it. You can bake, fry, or cook it to deactivate the trypsin inhibitor enzyme, which improves the digestibility and nutritional value of chickpea flour.
Can I Use Fresh Chickpeas Instead?
No, chickpea crackers are typically made with chickpea flour. Fresh chickpeas have a different texture and moisture content, so the result won't be the same as using chickpea flour.
Is Chickpea Flour Gluten-Free?
Yes, chickpea flour is naturally gluten-free, making it a great alternative for people with celiac disease or gluten intolerance.
Can I Make Chickpea Flour at Home?
Yes, you can make chickpea flour at home by processing dried chickpeas in a food processor or blender until it turns into flour. Make sure to grind it finely enough to achieve a smooth texture.
Is Chickpea Flour Suitable For a Low-Carb Diet?
Chickpea flour does contain carbohydrates, so it's not completely low-carb. However, compared to wheat flour, it has a lower glycemic index and can be a suitable option for those following a low-carb diet. It's still important to keep an eye on portion sizes.
Do you love these crackers as much as I do? Then you absolutely have to try them with my dips:
Share & Comment
If you liked these delicious salted chickpeas crackers, I would appreciate if you leave me a ⭐️⭐️⭐️⭐️⭐️ rating and a comment below. Be sure to follow me on Pinterest, Instagram, TikTok, and Facebook for all my latest recipes.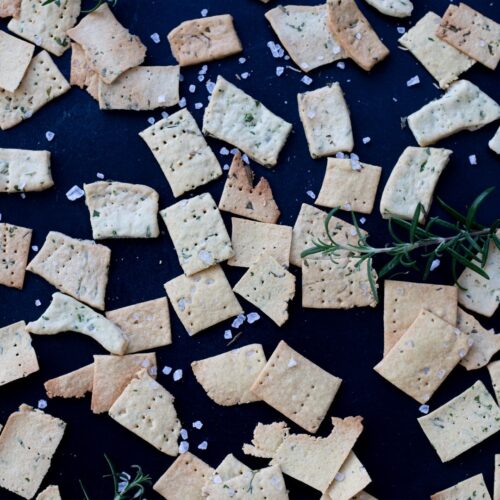 Vegan Chickpea Crackers
With these gluten-free and vegan crackers, you'll be the star at the next movie night. Delightfully savory, flavorful, and super easy to make – the perfect snack for in-between!
Ingredients
Dry
120

g

chickpea flour

1

tsp

baking powder

1

tsp

salt
Liquid
3

tbsp

water

2

tbsp

olive oil
Herbs (optional)
1

Tbsp

parsley

1

Tbsp

rosemary
Instructions
Preheat the oven to 180 °C (350 °F) and chop the herbs.

Mix all the ingredients together – sift the flour and baking powder beforehand if lumpy.

Let the dough sit for 5 minutes, then roll out as thin as you can – the thinner, the faster the crackers will be ready and the crunchier they will be.

To keep the dough from sticking, it's best to sprinkle some flour on your work surface before rolling out.

Once rolled out, transfer the dough to a baking sheet lined with parchment paper and add your desired toppings.

Use the blunt side of a knife to cut the dough into the desired shape.

Next, use a fork to poke small holes in it as desired. (This step is optional, but looks nice and store-bought – so why not?)

Bake the crackers for 5-10 minutes – until you see little bubbles and the corners are golden brown.
Note
Since the crackers are so thin, they burn very quickly – so please stay close in order to prevent burning!
Notes
The basic dough recipe itself tastes relatively neutral – so it's perfect to experiment with spices on your own! Whether you like turmeric, chili, cumin or perhaps the sugar cinnamon variation – there are no limits to your creativity!
Small tip: Start slowly, ½ -1 tsp of loose spices, 1 tsp of fresh herbs – and then see what you like and which combinations work for you.
If you don't like the taste of olive oil or don't have any, use you can sub for a more neutral one like sunflower, or use some (vegan) butter.
Instead of chickpea flour, you can also use spelt, wheat, rye or whole wheat flour. Since these flours all contain gluten, the dough will be a bit tougher and you may want to add 1-2 tsp more water here.
Nutrition
Serving:
100
g
Calories:
144
kcal
Carbohydrates:
14
g
Protein:
5
g
Fat:
7
g
Saturated Fat:
1
g
Sodium:
566
mg
Fiber:
3
g
Sugar:
3
g
Vitamin A:
90
IU
Vitamin C:
1
mg
Calcium:
65
mg
Iron:
1
mg
Did you like this recipe?
I'd love to hear from you! Comment below.