Ø 15-20 Portions | 10Min | ⓥ Vegan | ⓧ Sugar Free
Introducing Raspberry Cashew Energy Bars – your ticket to a scrumptious and speedy snack. These bars, loaded with fresh raspberries, creamy cashew butter, and a touch of coconut, are not only mouth-watering but also vegan, nutritious, and sweetened solely with dates. Customize them to your liking by tweaking the sweetness or adding your favorite toppings.
Ever catch yourself doing the fridge dance multiple times a day, on the hunt for something to nibble on? Yeah, we've all been there. It usually ends up with a detour to the candy aisle or standing there, staring blankly, not quite sure what snack will hit the spot.
But fret not, because that's where these amazing Raspberry Cashew Energy Bars swoop in to save the day! Picture this: they're made with all things fresh and wholesome, and guess what? They're a breeze to whip up, any time you fancy!
Now, here's the magic touch – they're totally guilt-free. No refined sugar in sight, folks. Instead, they deliver a punch of energy that'll leave you beaming. And let me tell you, they're like a blast from the past – those fruit bars you find in stores, but minus the strange aftertaste and all those mysterious preservatives.
Why You'll Love These Homemade Energy Bars
Naturally sweet and energy-packed thanks to dates and raspberries
Delightfully refreshing and zesty
A healthy, fun snack without refined sugar
Perfect for meal prep: these energy bars stay fresh for up to a week
The ideal snack for those little hunger pangs in between meals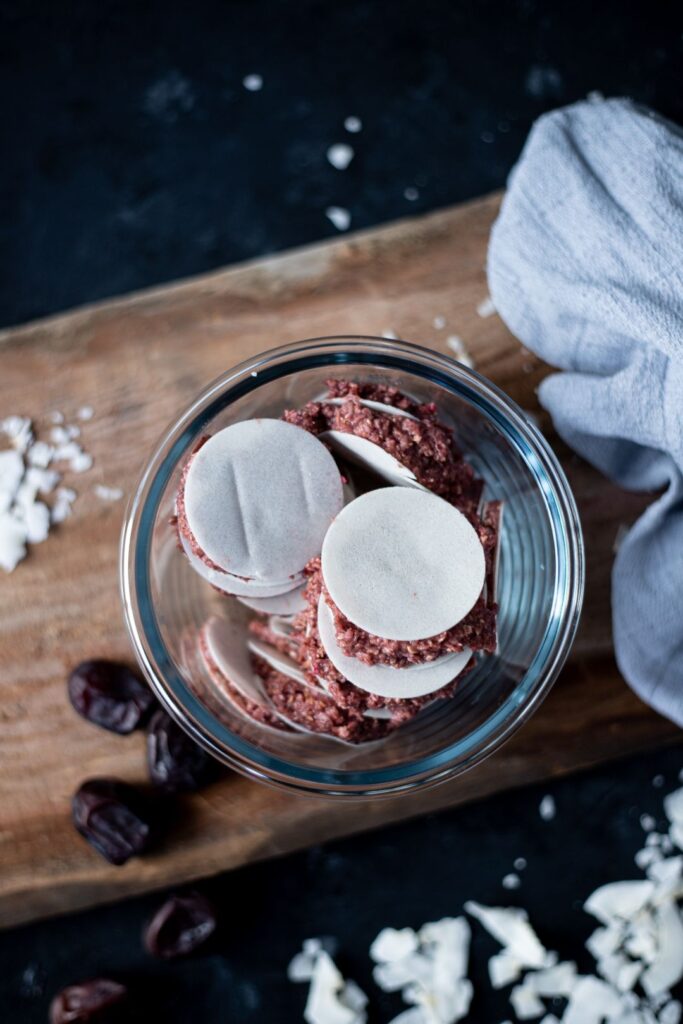 What You'll Need for the Raspberry Cashew Energy Bars
Dates for natural sweetness and fiber
Raspberries, rich in vitamin C and antioxidants
Oats for long-lasting energy and fiber
Cashew butter for a unique creaminess and healthy fats and proteins
Coconut flakes for flavor and healthy fats, adding a touch of summer
Ground flaxseeds for fiber, omega-3 fatty acids, and protein
Lemon juice for an extra burst of freshness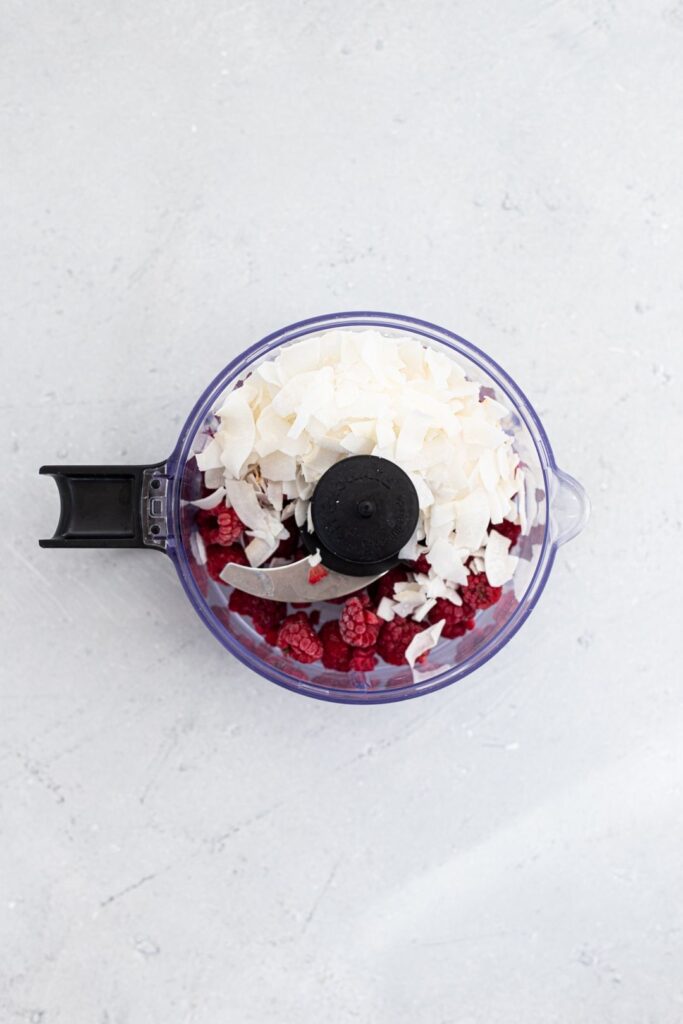 Here's How It Works
Place frozen raspberries and coconut flakes in a blender and pulse for 30 seconds to 1 minute until the mixture becomes chunky.
Add dates, oats, cashew butter, coconut flakes, 2 tsp of flaxseeds, lemon juice, and a pinch of salt to the blender, and blend until well combined. Adjust the consistency by adding lemon juice or the date soaking water, if needed.
If the mixture is too liquid, add a spoonful of flaxseeds. Be cautious, as thawed raspberries can make the mixture runny, so use them sparingly.
Spread the mixture onto wafers or another base of your choice for easier storage and consumption.
Alternative Ingredients and Substitutions
Out of raspberries? Strawberries or cherries work just as well.
Not a fan of cashews? Almonds or hazelnuts are equally delightful.
Lemon is not your thing? Skip it and use more date water instead.
Instead of wafers, you can use chocolate to coat. Freeze the bars until they're solid, then dip them in melted chocolate.
Not in the mood for chocolate or wafers? Shape them into balls and roll them in coconut flakes, oats, or sesame seeds.
For a low-carb version of these vegan raspberry energy bars, you can replace oats with almond flour. You might need a bit more flaxseeds to get the right consistency.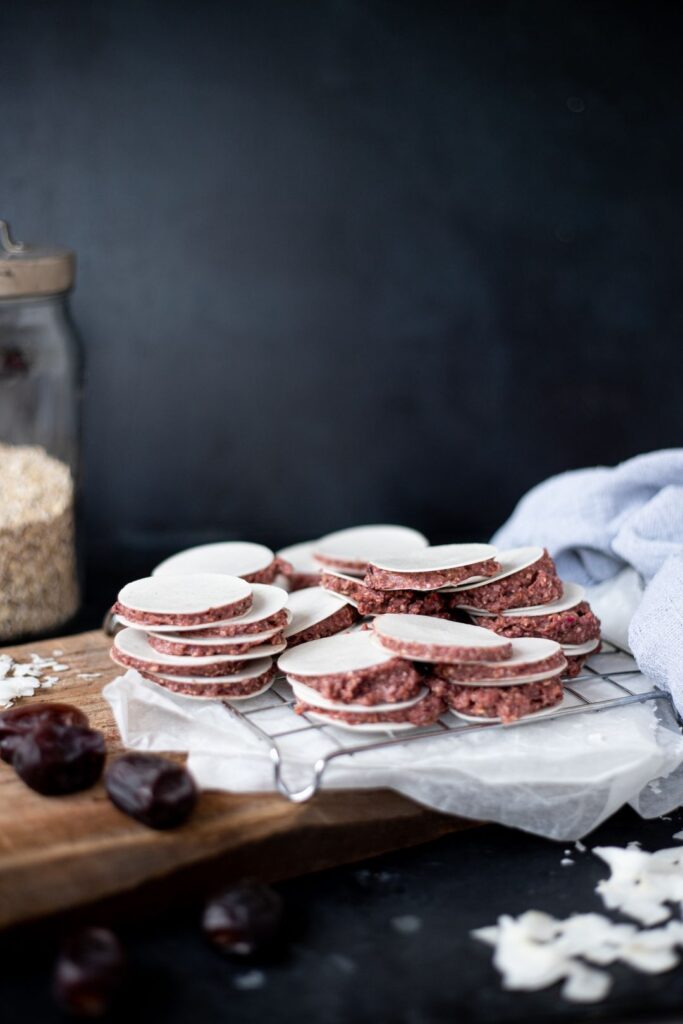 Tips & Tricks for the Perfect Vegan Raspberry Date Energy Bars
Let the mixture sit in the fridge for 10-15 minutes to make it less sticky when shaping the bars.
Slightly moisten your fingers before shaping the bars.
If your dates are too firm, soak them in hot water for about 10 minutes. You can use the soaking water if the mixture is too thick.
During raspberry season, you can use fresh raspberries. This shortens the blending time, and the dough becomes a bit softer.
For added freshness, add a quarter to half a lemon instead of lemon juice. Start with less and adjust to your taste.
Storage
These delicious Raspberry Energy Bars stay fresh in the fridge for up to 5 days. However, I recommend keeping them in the freezer. Due to the dates and cashew butter, they won't become rock solid, ensuring you have a refreshing treat on hand for much longer. In the freezer, they will last for at least 2 weeks – assuming you don't devour them all before then.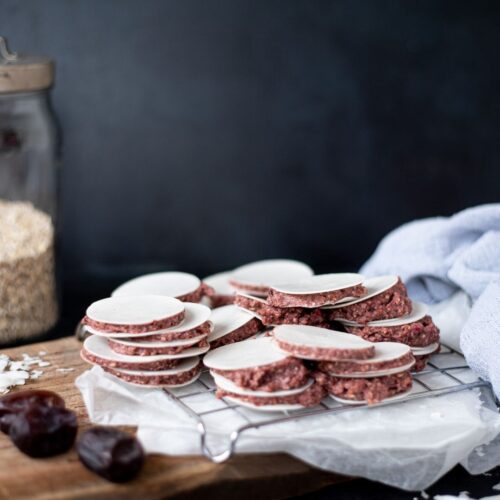 Raspberry Cashew Energy Bars
These vegan, delicious energy bars are the perfect snack for the whole family! They are filled with fresh, healthy ingredients and can be whipped up in no time, any time of the day.
Ingredients
100

g

fresh dates

approx. 10 *

100

g

raspberries **

frozen

75

g

oats

50

g

cashew butter

40

g

desiccated coconut

2-3

teaspoons

flaxseeds

crushed

Juice of ½ lemon ***

pinch

of salt

Wafers

optional
Instructions
First, put your frozen raspberries and desiccated coconut into a blender and grind for about 30 seconds to 1 minute.

As soon as the mass is crushed but still lumpy , it is perfect.

If you prefer your bars to be extra soft, you can of course make keep pulsing until they have your desired consistency.

Next, add the remaining ingredients.

Put the dates, oats, cashew butter , desiccated coconut, 2 teaspoons of flaxseed, lemon and a pinch of salt in the blender and then: off you go!

If the mixture is too firm, you can either add more lemon juice or some water (use the soaking water from the dates for extra sweetness).

If the mixture has become too runny, just add a spoonful of ground flaxseeds.

Note that once the raspberries are thawed, they will become more liquid.

Finished! If you want, you can now add this fruit paste in between wafers.

This way it is easier to store and eat, as it tends to stay a little sticky otherwise.
Notes
* If you don't have any fresh, soft dates, no problem – just let them soak in hot water for about 10 minutes before using. Do not throw away the water – you can use this if the mixture is too thick!
** When they are in season you can of course also use fresh raspberries. Mixing time will be shorter and the dough will be a little softer.
*** Another option, instead of the juice, you can simply add half a lemon. Then it becomes extra lemony and fresh. It's best to start with less and then slowly test your taste.
These wonderful sandwiches keep in the refrigerator for up to 5 days. However, I recommend that you keep them in the freezer. The dates and cashew butter do will keep them soft enough to enjoy, and you will always have a little snack ready whenever you feel the cravings.
Nutrition
Serving:
15
g
Calories:
80
kcal
Carbohydrates:
11
g
Protein:
2
g
Fat:
4
g
Saturated Fat:
2
g
Sodium:
2
mg
Fiber:
2
g
Sugar:
5
g
Vitamin A:
12
IU
Vitamin C:
2
mg
Calcium:
12
mg
Iron:
1
mg
Did you like this recipe?
I'd love to hear from you! Comment below.
Do You Love Healthy Snacks as Much as I Do? Then You Have To Try These Too:
Vegan Fruit Roll Ups – The Best Alternative to Gummy Bears
Savory Chickpeas Cracker
Share & Comment
If you enjoyed these healthy raspberry energy bars, I would appreciate if you leave me a ⭐️⭐️⭐️⭐️⭐️ rating and a comment below. Be sure to follow me on Pinterest, Instagram, TikTok, and Facebook for all my latest recipes.