Healthy Energy Balls Without Industrial Sugar
Duration: Approx. 15 Min Prep Time | ⓥ Vegan | ⓧ Gluten-free
Are you in search of a delectable, quick-to-whip-up, and healthy snack that's also vegan? Look no further! These homemade Energy Balls, also known as Bliss Balls, fit the bill perfectly. In just 15 minutes and with only five simple ingredients, you can create these delightful treats right in the comfort of your own kitchen.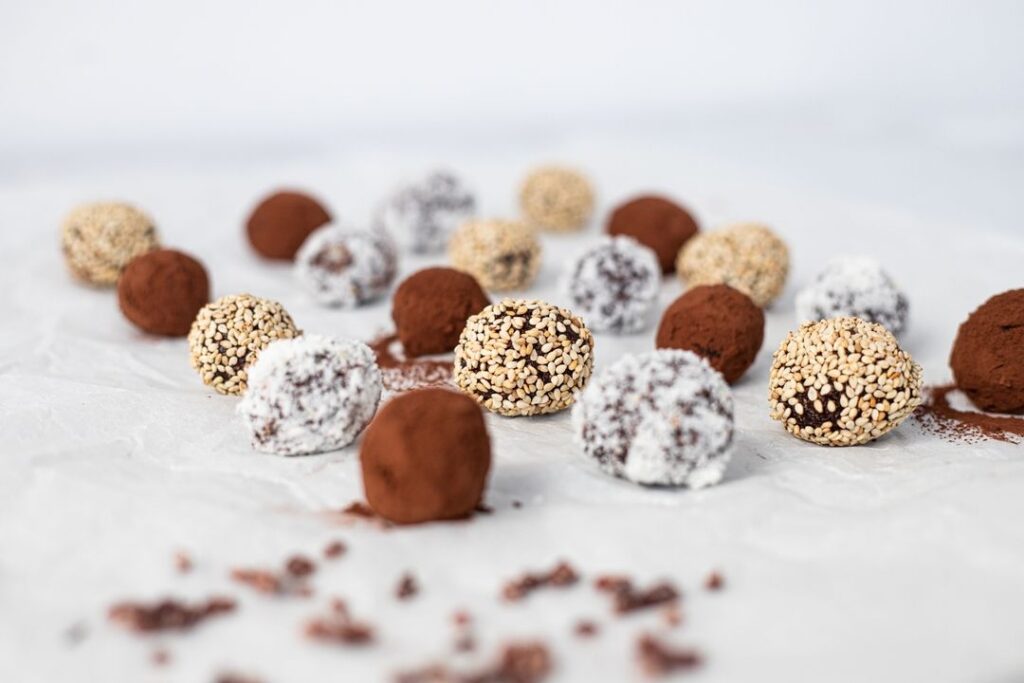 Did you know that a strong craving for chocolate might be a sign of a magnesium deficiency? Worry not, though, because these healthy chocolate truffles provide an instant remedy.
Cocoa, boasting 400mg per 100g, stands as an excellent source of magnesium. Pair it with cashews and oats, and you've got yourself the ultimate snack, perfect for any time of day.
Whether you need a pre-workout boost, a dessert option, or a quick pick-me-up, these little bliss balls have you covered, and I'm confident you'll love them too!
Why You'll Love These Bliss Balls
They're naturally sweet and incredibly chocolatey, all without any refined sugar.
Thanks to oats and dates, they're high in fiber, which keeps you feeling full and supports digestion.
Rich in healthy fats, providing a satisfying and nutritious snack.
You can customize the ingredients and toppings to suit your taste.
They're quick to make, requiring only 15 minutes and five ingredients.
Here's What You'll Need for These Chocolate Bliss Balls
Dates: These serve as the base for the Energy Balls, providing natural sweetness and fiber.
Oats: They provide long-lasting energy and are packed with fiber.
Cashews: Cashews give the healthy chocolate truffles a creamy texture and add healthy fats and proteins.
Coconut flakes: These bring an exotic flavor and contribute healthy fats that satisfy and provide energy.
Cocoa powder: Cocoa powder delivers a rich chocolate taste and is loaded with antioxidants and minerals.
Salt: A pinch of salt perfectly balances the flavor.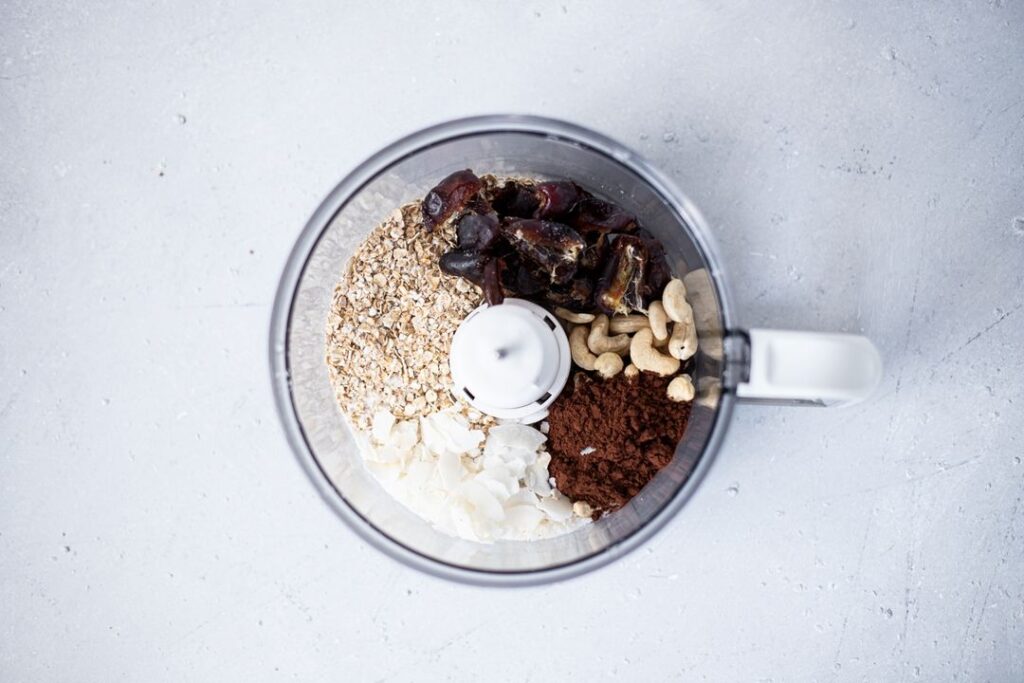 Here's How It Works
Prepare the Ingredients: Begin by removing date pits and processing all the ingredients in a food processor or with an immersion blender.
Mix: Grind the cashews and oats thoroughly. If the mixture seems too dry, add a bit of water until you achieve a smooth dough.
Prepare Toppings: Set aside your desired toppings in separate bowls.
Shape Into Balls: Roll teaspoon-sized portions of the dough into balls. If the dough feels sticky, briefly wet your hands to make rolling easier.
Add Toppings: Roll the Energy Balls in the prepared toppings until they are fully coated.
Chill: Allow the Energy Balls to rest in the refrigerator for 30 minutes to firm up.
Enjoy: You can enjoy them right away or store them in the refrigerator for up to a week.
Storage
In the fridge: When stored in the refrigerator, these bliss balls will stay fresh for up to a week. It's best to keep them in an airtight container for maximum freshness. Take them out 10 minutes before consuming – they'll become extra creamy and delicious.
Freezing: You can also freeze your homemade Bliss Balls with ease. I usually make double or triple the amount and freeze the rest. They can be kept in the freezer for several weeks – if you don't devour them before then! Ideally, take them out the evening before, place them in the refrigerator, and have your healthy snack ready for the next day.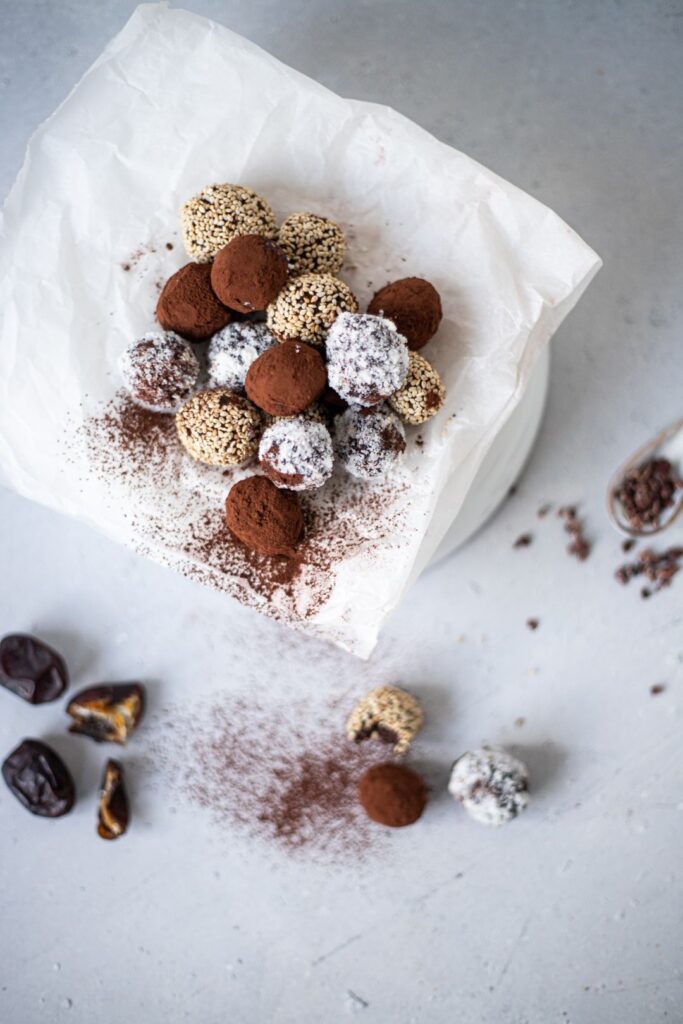 Tips & Tricks for Perfect Bliss Balls
Use high-quality ingredients: If possible, opt for organic ingredients. Organic cocoa powder has a richer chocolate flavor.
Pre-cut and soak dates if they're not soft enough: This makes processing easier and results in a smoother consistency.
Use a good food processor: A food processor simplifies mixing and shaping the balls, ensuring a consistent blend.
Add a bit of water if the dough is too firm: Keep in mind that the balls will firm up in the refrigerator, so be cautious when adding water.
Mazafati dates are naturally soft and boast a caramel-like flavor. In my opinion, this date variety works best for Bliss Balls, as they are naturally super chewy.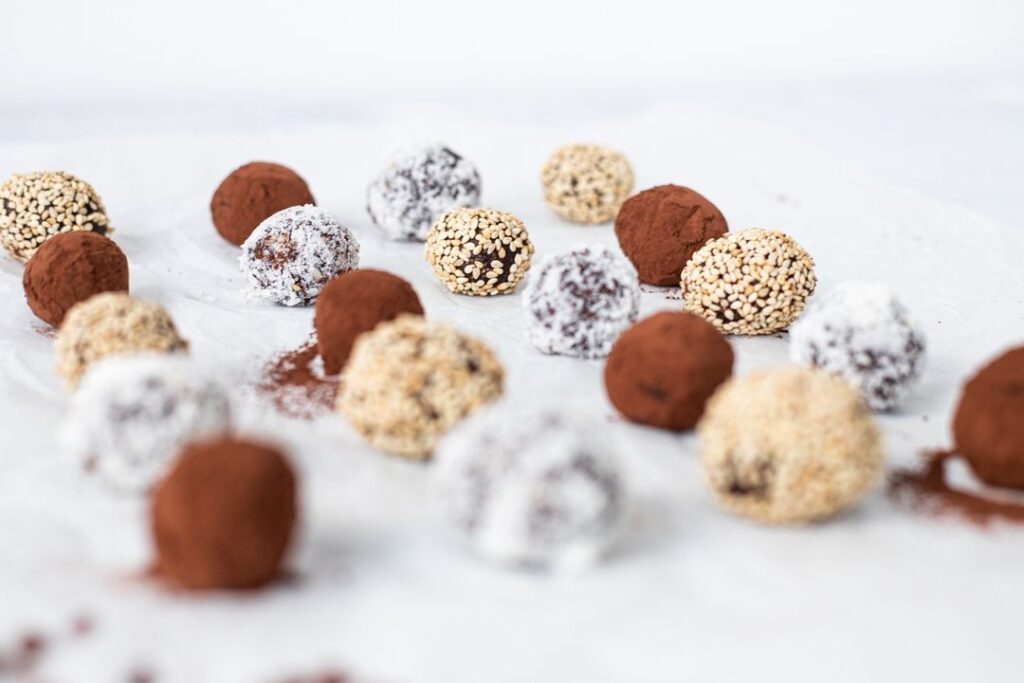 date variety works best for Bliss Balls, as they are naturally super "chewy."
Frequently Asked Questions About Energy Balls
How Healthy Are Bliss Balls?
Energy Balls are a healthy alternative to sugar-laden snacks, as they are sweetened only with the natural sweetness of dates. However, keep in mind that dates naturally contain a lot of sugar, and you should also enjoy this snack in moderation 🙂
How Many Bliss Balls Can I Eat?
You can enjoy as many Energy Balls as you like! However, I recommend starting with 1 to 3 Energy Balls per serving. This will help satisfy your sweet cravings and provide a healthy alternative to conventional chocolates.
Can I make Energy Balls without a Food Processor?
Yes, you can prepare Energy Balls without a food processor as long as the dates are soft enough. An easy trick is to pour hot water over the dates to soften them. In my opinion, Mazafati dates are the best for this.
Can I prepare Bliss Balls in Advance?
Yes, you can easily prepare Bliss Balls in advance to save time. They store well in the refrigerator and are a convenient, healthy snack option on the go.
Are Dates Healthier than Regular Sugar?
Well, it depends on how you define "healthy." If you're aiming for a completely sugar-free diet, dates may not be the best choice because they naturally contain about 65% sugar. However, dates are often considered a healthier alternative to regular sugar because they also contain fiber and other nutrients in addition to their sugar content. In my view, health isn't black and white; it's about moderation.
Here's a quick comparison:
100g of dates contain 63g of sugar and 8g of fiber.
100g of regular sugar contain 99.8g of sugar and 0g of fiber.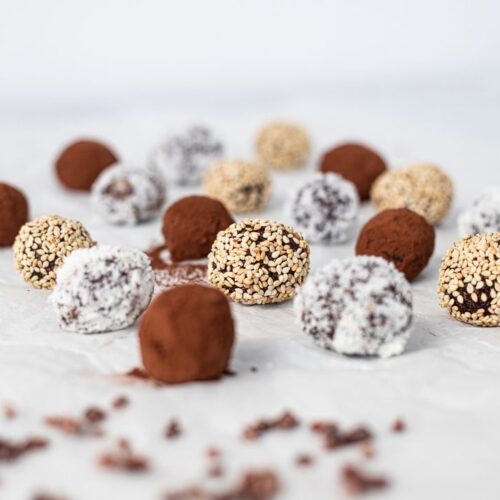 Vegan Bliss Balls
These vegan bliss balls are sweetened with dates, are soft and creamy with a subtle hint of chocolate. Whether you enjoy them as a pre-workout snack, dessert or as a snack in between, these energy bites are sure to satisfy your cravings.
Ingredients
Ingredients
100

g

dates

about 10 dates

60

g

oatmeal

40

g

cashews

30

g

coconut flakes

I like to use the more chunky version

2-3

tbsp

cocoa powder

pinch

of salt

some water if dough is too thick
Toppings
sesame

cocoa nibs

cocoa powder

coconut flakes
Instructions
Put all the ingredients together in a food processor (remove the pits from the dates before you put them in!). If you don't have a food processor, you can also use a hand blender -just add one ingredient at a time, starting with the dates. Preparing them this way, the energy balls will have a little bit more texture, but are just as tasty.

Next, mix everything together until the cashew nuts and oatmeal are well chopped up. If the mixture is very dry, you can gradually add a little more water until a smooth dough forms.

Set the dough aside and let it chill for 10 minutes.

In the meantime, place the toppings in separate bowls.

Take a teaspoonful of the dough and start rolling your dough into small balls.

If the dough is very sticky, you can wet your hands with some water to make it stick less to your hands.

Once you've rolled your energy bites, choose the topping of your choice until everything is evenly covered.

Finally, if you like your energy bites a little firmer, you can put them in the fridge for 30 minutes.

You can enjoy them straight away or store the energy bites in the fridge for up to a week.

If you freeze them, they will last about a month – although mine usually never last that long 🙂
Nutrition
Serving:
10
g
Calories:
40
kcal
Carbohydrates:
5
g
Protein:
1
g
Fat:
2
g
Saturated Fat:
1
g
Sodium:
1
mg
Fiber:
1
g
Sugar:
3
g
Vitamin A:
1
IU
Vitamin C:
0.2
mg
Calcium:
6
mg
Iron:
0.3
mg
Did you like this recipe?
I'd love to hear from you! Comment below.
Do You Love Snacks as Much as I Do? Then You Have To Try These Too:
Vegan Fruit Roll Ups – The Best Alternative to Gummy Bears
Chickpeas Cracker for a Hearty Snack
Share & Comment
If you enjoyed these healthy chocolate truffles, I would appreciate if you leave me a ⭐️⭐️⭐️⭐️⭐️ rating and a comment below. Be sure to follow me on Pinterest, Instagram, TikTok, and Facebook for all my latest recipes.