With Mint and Peas
Time: Approx. 20 Min | ⓥ Vegan | ⓧ Gluten-free
This white bean hummus with mint and peas is the star of any barbecue party. It tastes fresh and summery, while at the same time being super creamy. It is also naturally vegan and gluten-free and is packed with protein!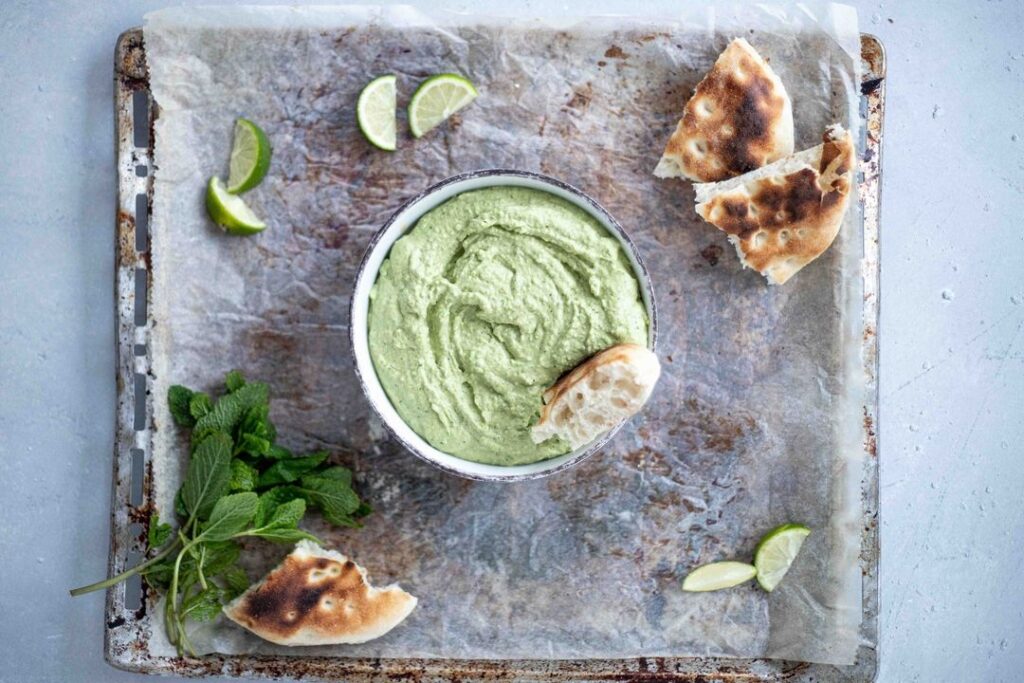 As you may have noticed, I have a deep love for all kinds of hummus variations and dips. This hummus is like the little sister of the classic hummus. It's a bit like the perfect summer dress – refreshing and light without weighing you down. It's wonderfully creamy and super quick to prepare, with just 7 ingredients.
With around 21 grams of protein per 100 grams, white beans and peas are the ideal snack to get your protein in, and their high fiber content keeps you full for hours. They are also low in fat but rich in minerals and vitamins. So, they make the perfect snack for any time of the day!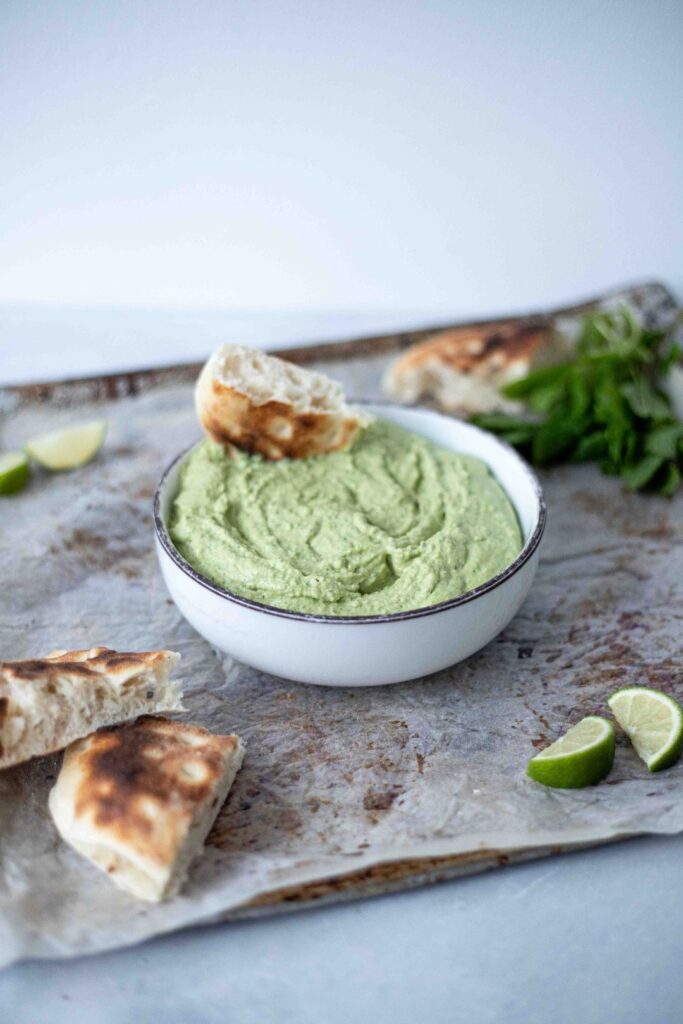 Why You'll Love This Recipe
The refreshing mint dip with peas and white beans tastes light and special – the perfect add on to any meal.
The ingredients are simple and easy to find.
White beans are a great source of protein for vegan and plant based cooking.
Here's What You'll Need for Your White Bean Hummus with Mint and Peas
Cannellini beans – Freshly cooked or canned
Peas – I always use frozen peas
Mint –fresh
Garlic – thats a must-have ingredient for any hummus recipe
Lemon – to get that freshness in there
Tahini – for a delicate, nutty flavor
Salt & Pepper – to taste
Ice cubes – for that velvety texture of the hummus
What Goes Well with Vegan Mint Pea Dip with Cannellini Beans?
Whether you eat it as a spread or dip your veggies in it – hummus is the perfect protein-rich add on for any dish. I particularly enjoy this fresh dip at a summer bbq, as the mint just adds that extra bit of flavor. But you can also serve it with my kohlrabi patties or as a side dish for salads. Hummus is also delicious as a dip with sliced vegetables or thinned out as a pasta sauce! Have you tried my protein rich chickpeas crackers yet?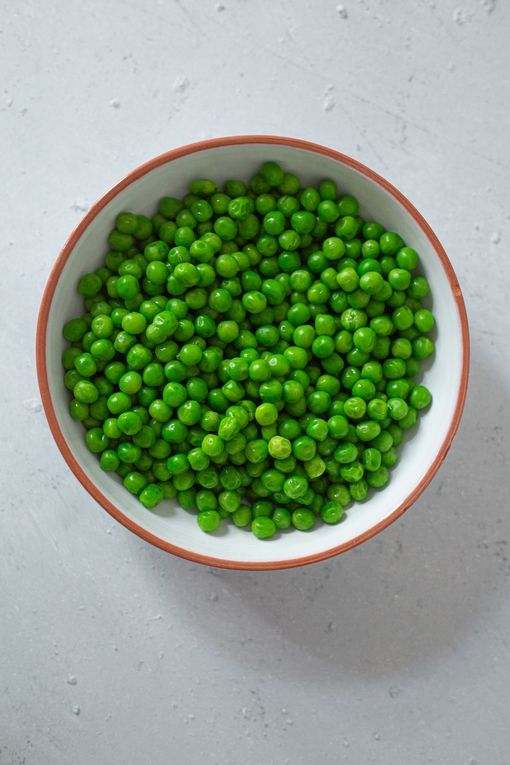 Tips & Tricks
For better digestion, you can cook your beans from scratch. In this guide, I show you how to do it.
The secret to an extra creamy dip is to blend it long enough. Give the ice cubes time to whip up the mixture. You need to mix it at least 5, preferably 10 minutes! I adapted this tip from Refika's Kitchen, and it definitely took my hummus game to the next level!
Variations and Substitutions
Don't like mint? No problem – just leave it out or use parsley instead.
Can't tolerate garlic? Then use a handful of wild garlic if it is in season. Alternatively, you can omit it altogether or use garlic oil.
Storage
In the fridge: The leftovers can be stored in an airtight container in the refrigerator for up to two days. However, it's best to prepare the mint bean hummus fresh.
Freezing: You can also freeze the summery mint bean dip in individual portions. Just take it out of the freezer a few hours before, let it thaw, and enjoy.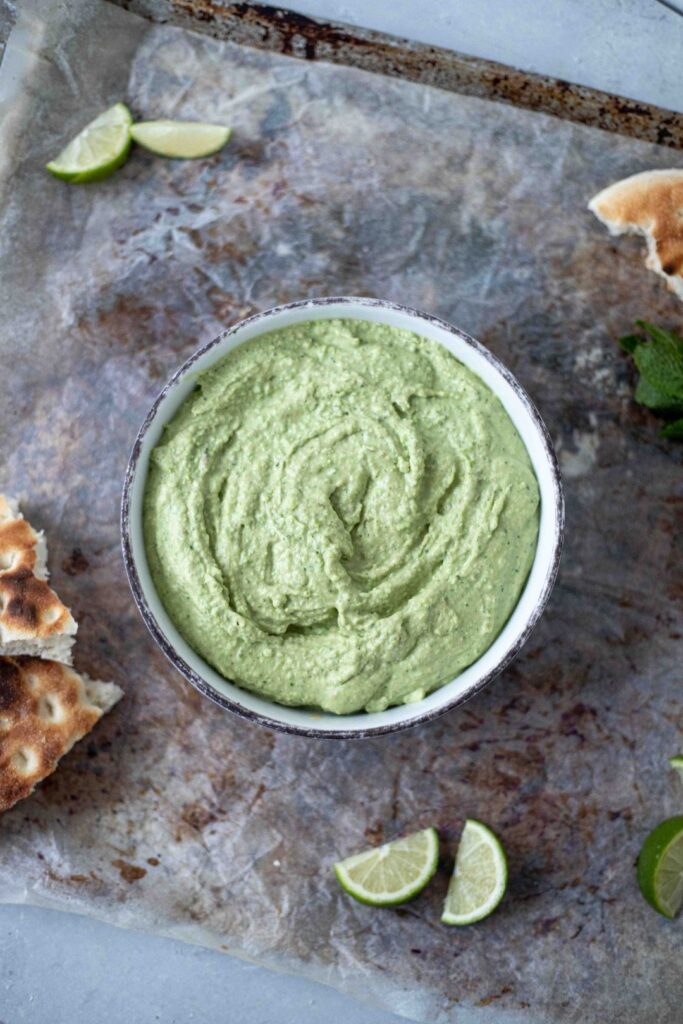 Frequently Asked Questions about White Bean Hummus with Mint
Are White Beans Healthy?
White beans are healthy and especially great for a plant-based diet! They are rich in fiber, protein, iron, magnesium, and B-vitamins. Fiber promotes digestion, proteins are important for muscle building and repair, iron supports oxygen supply, magnesium is good for bones and energy metabolism, and B-vitamins have various functions in the body. As a plant-based source of protein, white beans are a fantastic addition to a balanced diet without animal products.
How Can I Prevent Beans From Causing Bloating?
If you have no experience with legumes, it's best to introduce them slowly to your body. Legumes become more digestible when soaked and then cooked slowly. In this guide, you'll find all my tips and tricks for that.
What are White Beans?
White beans are a broad category of beans characterized by their light, creamy, or white seeds. There are various types of white beans, including cannellini beans, great northern beans, navy beans, and lima beans. White beans are rich in fiber, protein, iron, and other nutrients. They are often used in soups, stews, chili, salads, casseroles, and other savory dishes.
What do White Beans Taste Like?
White beans have a very thin skin and a higher starch content which makes them soft and mushy after cooking – perfect for a creamy texture. They have a mild, creamy taste with a slightly nutty note. They are not overly spicy, which makes them a perfect ingredient in many dishes.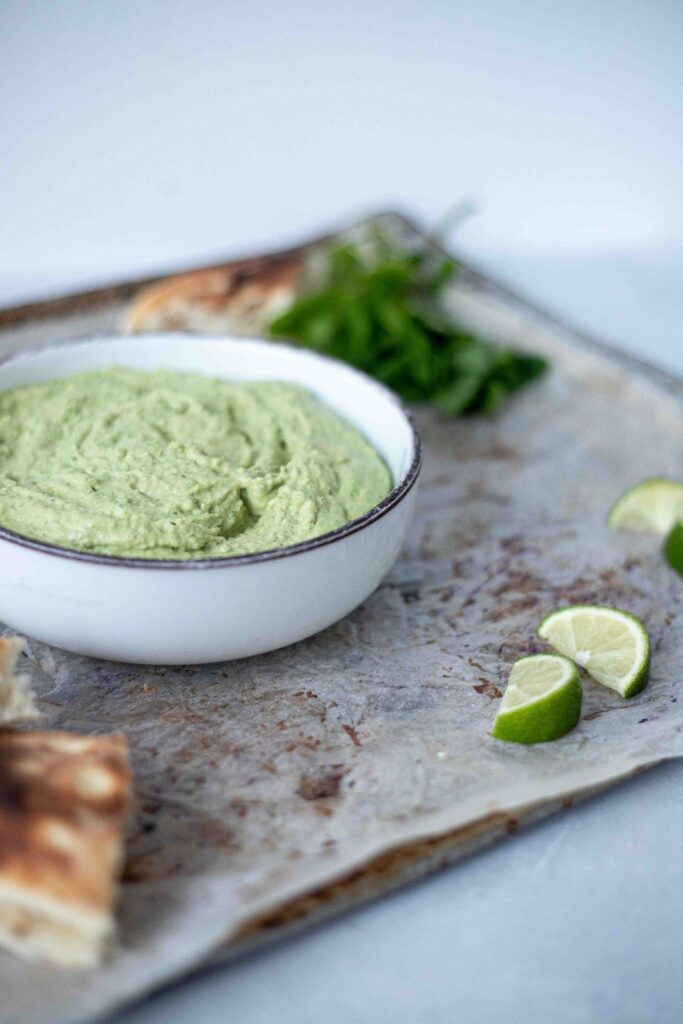 If You Enjoyed This Recipe, Be Sure to Try My Other Hummus Variations:
Share & Comment
If you liked this delicious white bean hummus recipe, I would appreciate if you leave me a ⭐️⭐️⭐️⭐️⭐️ rating and a comment below. Be sure to follow me on Pinterest, Instagram, TikTok, and Facebook for all my latest recipes.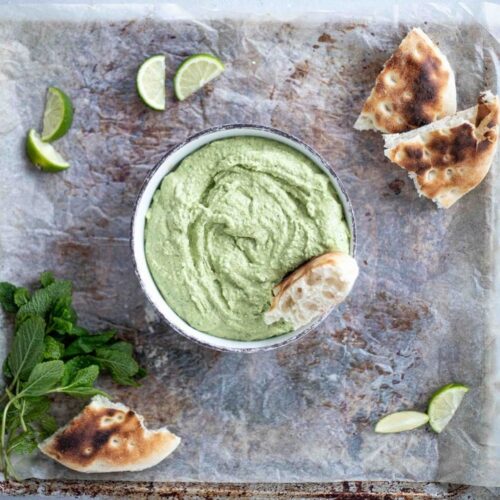 White Bean Hummus with Mint and Peas
This delicious white bean hummus with mint and peas tastes light and summery, and is super creamy. Packed with protein and fiber, it's a star at every party.
Ingredients
Dry
150

gr

white beans

100

gr

frozen peas

thawed

2-3

tbsp

freshly chopped mint

1-2

cloves

of garlic

1

teaspoon

salt

½

teaspoon

pepper
Liquids
50-60

gr

tahini

Juice of 1 lemon

50

ml

water

3-4

ice cubes
Instructions
Drain the beans, wash them thoroughly and set aside.

Put the tahini, garlic, lemon juice, spices, and water in a blender.

Mix everything together until a light and smooth mass is formed (approx. 30 sec-1 minute).

Next add the beans and the defrosted peas to the mixture and mix everything on the highest level for 4-5 minutes. Save a few of the peas for decoration.

Gradually add the ice cubes until the hummus has the desired consistency.

Finally, decorate this lovely hummus with some fresh mint, with your leftover peas and enjoy!

You can enjoy it right away. However, if you enjoy having a little bit more of a complex taste, you should prepare it a few hours ahead and let the flavors marinade.

This white been mint hummus can be kept fresh up to 3 days in the fridge!
Nutrition
Serving:
100
g
Calories:
144
kcal
Carbohydrates:
16
g
Protein:
7
g
Fat:
7
g
Saturated Fat:
1
g
Sodium:
636
mg
Fiber:
4
g
Sugar:
1
g
Vitamin A:
498
IU
Vitamin C:
4
mg
Calcium:
66
mg
Iron:
2
mg
Did you like this recipe?
I'd love to hear from you! Comment below.